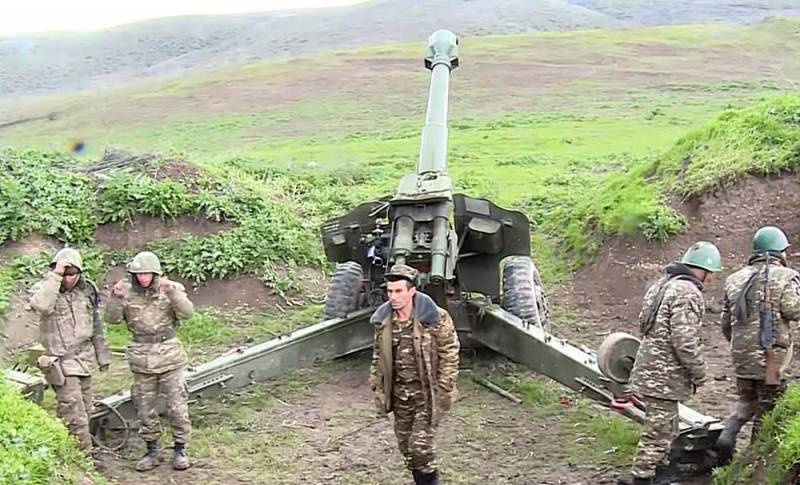 Ankara, having launched a "counter-offensive" operation in Nagorno-Karabakh with the hands of Baku, was counting on a blitzkrieg - a fleeting war, in which success brings a series of powerful blows, depriving the enemy of the will to resist, demoralizing his army and population. However, the blitzkrieg did not happen - the Armenian "fortress Karabakh" was holding on, fiercely fighting back, although in some places its walls were breached, doused with the blood of the Azerbaijani military.
Some experts hastened to prematurely proclaim Turkey's victory over Russia in the rivalry for the Transcaucasus, although it is not entirely clear what their conclusions are based on. Moreover, Moscow did not appear at all for the war in Karabakh. She began to observe what was happening, not accepting either side, while taking advantage of the position of an arbitrator.
For Ankara, this is the third conflict in which it participates, albeit indirectly, bearing certain material costs and other costs. The wars in Libya and Syria, and now also the support of Azerbaijan, are very burdensome for the budget of a powerful, but not the richest country.
Economy
Turkey may not be able to withstand this, after which problems of an internal political nature will begin and Ankara will be sharply unable to expand its sphere of influence.
Turkish President Recep Tayyip Erdogan
imagined
himself a more significant leader than the founder of the Turkish state, Mustafa Kemal Ataturk. He decided to carry out a historical revenge and recreate the Ottoman Empire, starting an expansion in the Eastern Mediterranean.
Even Turkey's NATO allies do not like these plans. A whole
anti-turkish union
from 9 countries: France, Italy, Greece, Cyprus, Israel, Egypt, Saudi Arabia, UAE and Bahrain. And that's not counting the LNA led by Khalifa Haftar, official Damascus and the Kurds.
By targeting Karabakh and Armenia, Turkey could spoil its relations with Russia and Iran, as well as lose any remaining US confidence. Washington itself is trying to squeeze Moscow out of Transcaucasia, but it does not want to let Ankara go there.
Turkey runs the risk of being left in almost complete isolation and will begin to degrade very quickly. It will have to retreat on all fronts and make concessions to both the West and Moscow. Ankara's attempts to drag Russia into the Karabakh conflict, diverting its attention from Syria and Libya, were unsuccessful, the "counteroffensive" was drowned out, which means the Kremlin managed to outplay Erdogan. The intensity of the fighting has already decreased and several rounds of negotiations are due to take place in the near future.