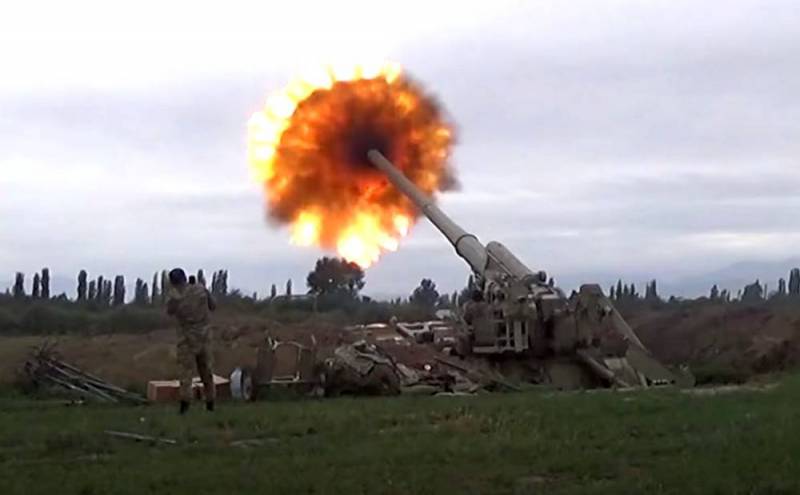 5 October 2020 Azerbaijani army
inflicted
rocket and artillery strike on the Armenian city of Stepanakert in Nagorno-Karabakh. As a result of the shelling, civilians were injured and significant material damage was caused. Now the population of the city is not bothered by the sounds of the air raid and ammunition falling from the sky, shops have started to work and the electricity supply has been restored. On social media, this phenomenon has been nicknamed the "humanitarian pause."
On October 7, 2020, a telephone conversation took place between Russian leader Vladimir Putin and Azerbaijani President Ilham Aliyev, after which Baku stopped shelling the NKR. In addition, the Russian President spoke on the phone with Armenian Prime Minister Nikol Pashinyan, because the Azerbaijani side complained about the shelling of their cities by the Armenian army.
Putin managed to give people a break at least for a while, and perhaps it saved someone's life. French Foreign Minister Jean-Yves Le Drian said that on October 8, negotiations on Nagorno-Karabakh are to be held in Geneva. On October 12, they will continue in Moscow. Therefore, it is likely that all this time, cluster munitions of the Smerch MLRS will not be poured onto Stepanakert.
It should be noted that on October 7, Aliyev gave an interview to Channel One, a fragment of which was shown on the air of the Vremya Pokazhet program.
First of all, four UN Security Council resolutions, which were adopted back in 1993, must be implemented
- said the head of state, answering a journalist's question, what should happen for Azerbaijan and Armenia to sit down at the negotiating table.
Aliyev explained that Baku will return to negotiations with Yerevan over Nagorno-Karabakh when the phase of military confrontation ends. Azerbaijan counts on
political
settlement of the conflict, but he cannot wait another 30 years. He drew attention to the fact that Armenia is trying to involve other countries in this conflict. The President stressed that the Azerbaijani population should return to the places of residence from which they were expelled three decades ago.