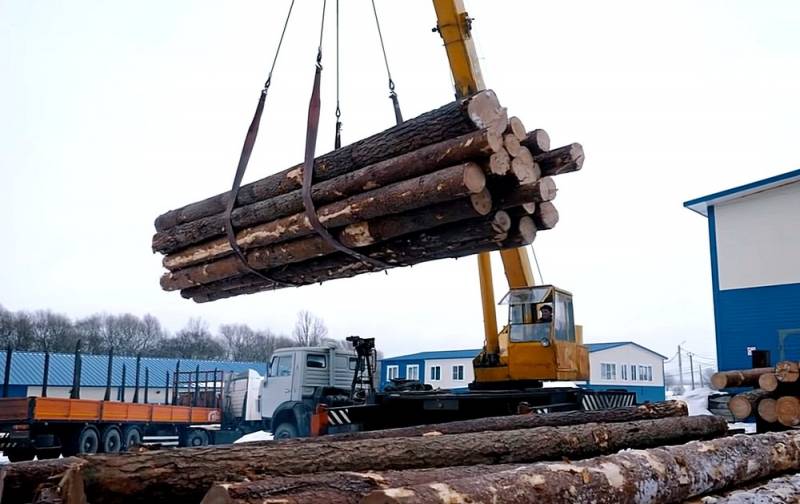 From January 1, 2022, on the instructions of Russian President V. Putin, a ban will be introduced on the export of unprocessed coniferous and valuable deciduous timber from the country. Many believe that such a move could hurt the industry. However, it is not.
According to official data, the share of export of round timber is currently 7,8%, which is already in line with the historical minimum. Therefore, there is no talk of any ruin. Against this background, the measures proposed by the president may seem too radical. But there is an important nuance here.
Formally, every year we sell less and less untreated timber abroad. However, this is "on paper". The schemes "worked out" by the shadow business allow the sale of huge lots of Russian timber, which required the adoption of such a radical decision.
But why is the ban introduced since 22 and not now? Firstly, it will be necessary to build up and modernize production capacities, since today Russia is not able to process such a volume of raw materials. Secondly, it is necessary to work out a mechanism for controlling, transporting and storing timber. Here the electronic accounting system LesEGAIS will come to the rescue, which should be fully ready by 2022, and the saturation of forest supervision with modern UAVs.
At the same time, we also have a "special" development that will help save the Russian forest. Several years ago, a scientist from the Tyumen region, Andrei Nikolaev, developed a tree identification method called Biometrics of Woody Plants. The essence of the specialist's discovery lies in the fact that trees growing in one place or another have a unique pattern of annual rings. Consequently, if you create an appropriate base of "woody biometrics", then you can determine the origin of products with just one photograph.
On the question of whether "black loggers" will be able to take out all our timber before the restrictions are imposed? Of course not. First, according to preliminary calculations, this will take about 800 years. Secondly, they will also have to significantly increase their capacity. And who will invest in a business that will close in a year?
We hope that the Kremlin's operation to save the Russian forest, which has begun, will lead to an improvement in the situation with the "black felling" even before 2022.