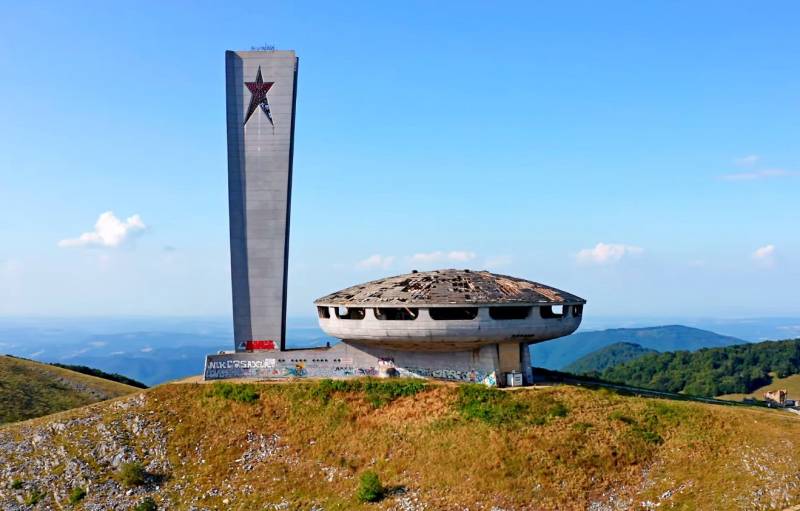 In the mountains of central Bulgaria, an international team of restorers and architects are working to preserve one of the country's most original monuments, the communist-era flying saucer located on the summit of Mount Buzludzha. This is reported by the Polish resource Onet.
The memorial complex was erected in 1981 at an altitude of 1400 m above sea level. It consists of a large reinforced concrete "saucer" and two 70-meter columns topped with a red star. The interiors of the building were decorated with a mosaic of 937 sq. meters, a third of which is destroyed. The panels depict the entry of the Red Army into Bulgaria in September 1944, and also reflect the role of workers, peasants and women in socialist society.
Our goal is not to return the monument to its former glory. We want to preserve the monument as a sign of time 30 years ago
- said Thomas Danzl from the Technical University of Munich, one of the members of the restoration team.
According to Danzl, the mosaic on the "saucer" bears traces of Byzantine traditions, as well as materials and methods that reflect the time of their creation.
The Bulgarian authorities did not want to grant Buzludja the official status of a cultural monument, which could free up additional funds for its reconstruction.
Policy
they realize how contradictory and ambiguous this place as a "symbol of dictatorship" is for public perception. Thus, the monument to the Soviet Army in the center of Sofia is often "decorated" with graffiti and critical slogans.
The initiator of the action to save the monument Ivanov admits that the monument served as a propaganda tool for the communist regime - for example, for organizing mass excursions. The idea of ​​the restorers is to perpetuate the Bulgarian history and preserve its monuments for contemporaries.
To have a better future, you need to know the past
- Danzl emphasized.