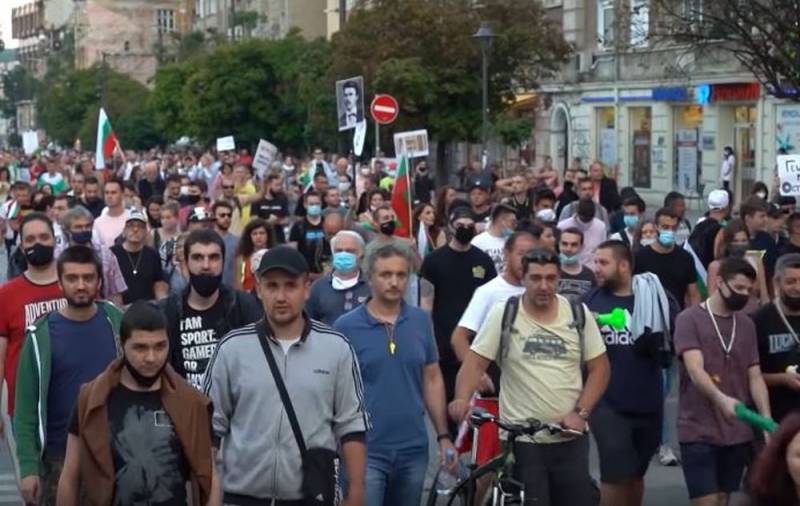 The protests in Bulgaria have been going on for three months. Another multi-thousand march in Sofia, which took place on October 3, 2020, has already been called the "4th Great People's Uprising" - an uprising against the mafia power, writes the Bulgarian edition Novinite.
The demonstration took place without significant incidents, but with an increased presence of police officers. Law enforcers checked the protesters for prohibited items. Some people were not allowed to participate in the action. One of them took offense at this and attacked the police with chicken eggs.
In the evening, after 21.00, a new dispute arose between law enforcement officers and protesters. Supporters of "Stand Up.BG" ("Get up Bulgaria") accused the police that this time they only let the demonstrators through to the Alexander Nevsky Cathedral. At the same time, during the 3rd "Great People's Uprising", which took place on September 22, 2020 and coincided with the 112th anniversary of Bulgaria's independence, the protesters were allowed to walk to the monument to the Unknown Soldier, which is 100 meters further than the Orthodox church.
At around 22:00, the demonstrators headed for the Eagle Bridge. There, one of the protesters climbed at a traffic light to wave the Bulgarian flag. The protest action ended peacefully. Opposition speeches were also in other cities in Bulgaria. For example, protesters blocked traffic on the Danube Drawbridge (formerly known as the Friendship Bridge, built in 1954) for several hours. It connects the cities of Ruse (Bulgaria) and Giurgiu (Romania).
Note that the second bridge along the Danube River - "New Europe", opened in 2013, has not been blocked. This bridge connects the Bulgarian city of Vidin and the Romanian city of Kalafat, and is part of the 4th Pan-European Transport Corridor and the European route E79.
We remind you that the 1st and 2nd "Great Popular Uprisings" took place on September 2 and 10, respectively. All the mentioned "uprisings" have nothing to do with the historical past of Bulgaria, when the truly Great Popular Uprising led to real changes, including the uprising against Turkish rule.
There are speculations that the 3-month-long protests were organized by "philanthropist and patron" George Soros, who wants the Bulgarian government to block the construction of the "Balkan Stream", which will be a continuation of the "Turkish Stream".