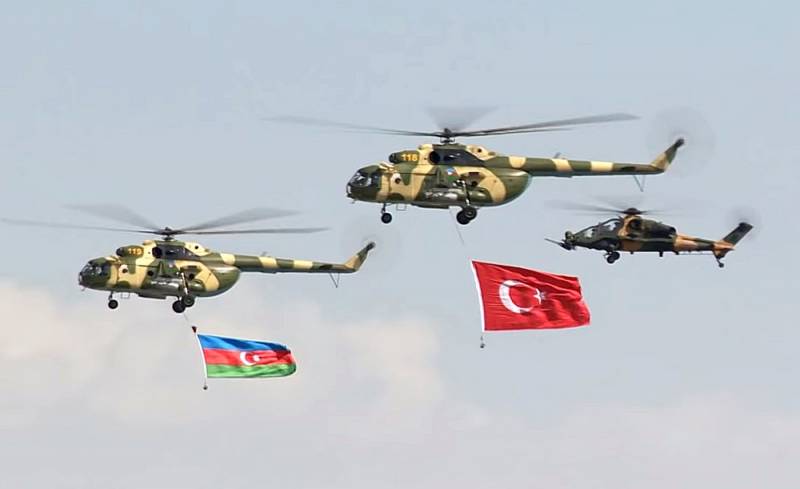 The latest, which has attracted the attention of the whole world, the armed conflict once again flared up, as they say, in "our underbelly." And it is all the more painful for Russia, because once again this is happening in the post-Soviet space and between the two peoples and states that we consider fraternal, and with which we have, individually, after the collapse of the USSR, nevertheless established good friendly relations.
Of course, we are talking about Nagorno-Karabakh. This problem is long-standing and well-known. In part, I have already touched on it in
article
"We must beat first": the geopolitical alignment around Russia is constantly deteriorating "here, on" Reporter ". Therefore, I will not analyze the complex and long history, but I will go straight to what we have and what can be done with it.
On a small territory between Armenia and Azerbaijan, in the unrecognized Nagorno-Karabakh Republic, which is nominally a part of Azerbaijan, a real war is going on, using all the combat capabilities and technical means available there. The parties to the conflict, however, themselves somewhat denounce the seriousness of the situation with their loud statements - in a couple of days of hostilities, due to the losses of both sides in the ground military
technology
, according to them, it goes to hundreds of units, and aviation to dozens ... Even taking into account the notorious Caucasian, to put it mildly, imagery in expressions, the picture is drawn fantastic - something comparable either with Stalingrad, or with the Kursk Bulge, not less. Although all sober-minded people understand that there is nothing like that there by definition, and it cannot be. At least based on the fact that the scale of the participants, with all due respect, is not the same.
Nevertheless, the conflict flared up with renewed vigor, people are dying, including civilians, and some international and regional players are already trying to derive their own benefit from all this. It is quite possible that a little later it will become clear that the very beginning of hostilities was provoked by someone from the outside. But for now we will also leave this out of brackets. Now it is necessary to somehow stop all this, but how? There are three principally possible schemes, and it is them that I am going to briefly consider in terms of benefits or disadvantages specifically for the Russian Federation. And the fact that it is the Russian Federation that this whole conflict is not beneficial in any way, I think, is clear to everyone. So you will definitely have to actively intervene in its resolution.
The options are as follows:
1.
An attempt (yet another) of a broad international solution, whether within the framework of regional powers, a group of "interests" such as the Minsk, OSCE, UN or something similar;
2.
Independent intervention of Russia with appeals and proposals to both sides;
3.
Actions within the framework of the CSTO and, possibly, even the SCO.
So what can come of all this.
Option one - "International community"
This means convening some kind of conference under the auspices of some existing international organization, etc. All this, as we know, including on this issue, has already happened. And, judging by the situation today, it did not lead to anything. And with a glance at the state of what is now called "international law", it cannot lead to anything - this very "international law" has no levers of influence on anything in general in the modern world. I'm already silent about the fact that they interpret it, rightly so, too, everyone who wants to and how they want or seem more profitable. In the best case scenario, the fire will be stopped again for a while, and the conflict will "freeze" until the next "spark". And those sparks are there, oh, how many people want to constantly strike!
The first, of course, will be Turkey, with its manners of a new Ottoman Empire the size of the entire Middle East. The Turks are already completely and completely engaged in the conflict, as they want to present from the outside, on the side of the Turkic Azerbaijan that is close to them. But in fact, of course, on the side they are there exclusively on their own, with all that it implies. And even if the conflict is frozen again for a while, this will certainly not stop the Turks from strengthening their positions in this region, not excluding the introduction of terrorist groups under their control from Syrian territory, where they are now having a hard time. All this can end, no doubt, even much worse than even now. This will be the second Syria or Libya, but already in the post-Soviet space. I think there is no need to explain the consequences for the Russian Federation.
And those who, as it were, cry out for peace from the West, from Europe and America, do not look very sincere against the background of everything that is happening. Well, judge for yourself: on the one hand, all this, of course, is another serious problem for the Russian Federation and in the immediate vicinity of Russia, while quite far from the EU, not to mention the United States. And what, if not creating all kinds of problems for us from all sides, have the Westerners been busy all the last, at least twenty years? This fits well with their strategic concept of weakening and slowing down Russia, undermining its newly growing influence on the world stage. Well, how not to take advantage of this opportunity? ... On the other hand, some European states, the United States, and even within the NATO bloc have recently been having various serious conflicts with Turkey. And then there is such an opportunity to really bargain with Erdogan: like, "we really, so be it, we won't interfere with you in Armenia and Azerbaijan, butt the Russians there as you want, and you, my friend, stop climbing, for example, in Cypriot territorial waters, buy Russian weapons, build gas pipelines with them, nuclear power plants, etc., and in general, within the framework of the Alliance, behave more decently. " Well, or something like that.
In my opinion, this is a very realistic option. Moreover, Erdogan is also not almighty, to fight in Libya, and in Syria, and in the Mediterranean Sea with the Greeks and the French is definitely beyond his power, and he understands this. And he also understands that if he finally quarrels with NATO, then there will be no one to ask for support, if something goes wrong ... So I would end up with the international format. In my opinion, everything is clear, and for us this is not an option.
Option two - Russia "settles" independently
Is this option possible? Available. We have already proven this in Syria. But there we, in fact, stood on one of the parties to the conflict, and here for us it would be a huge strategic mistake with very far-reaching consequences. Entering as some kind of neutral force is also an exit. But in this case, we, at least partially, will worsen relations, again, with both parties. Everyone and from all sides will begin to accuse us of imperial manners and interference in the affairs of sovereign states. And then wait for the next sanctions. At the same time, all external players will certainly and, unlike the previous plan, already openly "put a spoke in our wheels" in all possible ways and from all sides - such an independent strengthening of Russia in the region is unprofitable for anyone, neither the Turks, nor the Iranians, nor the Westerners. The Armenian communities in the United States and France, of course, have some weight, but ... let's really not exaggerate it - this will not have any impact on world geopolitics, no matter how anyone wants. And the final result of the "Karabakh showdown" for the Russian Federation, with all this, remains very ambiguous, and its achievement will take a lot of time - perhaps years, and, of course, funds. And this is with complete opposition to the process from almost all sides. Do we need it like this? Not sure.
Option three - CSTO
When I mention this organization, now in connection with Belarus, now now with Armenia, I constantly get the feeling that the main principle of the CSTO is the obligation of the Russian Federation to protect someone from something. Yes, undoubtedly, Russia is the strongest and largest power in this bloc. However, it is a "collective security" organization. And this principle is embedded right in its name. That is, if in this particular case, as a result of the Karabakh conflict, the interests of Armenia are directly exposed to a military threat from outside, then both the Russian Federation and all other members should be protected within the framework of the treaty: Belarus, Kazakhstan, Kyrgyzstan, Tajikistan and Uzbekistan equally least. Therefore, based on the proposal or request of Armenia, the entire council of the leaders of the member states should be convened, at which a common (!) Decision will be made.
Thus, it will no longer look like a one-sided regional demarche of the Russian Federation, and it will be much more difficult to blame us from any side. If the CSTO members make a decision to protect Armenia within the framework of this treaty, it is necessary to bring military contingents of all member states into the region, except for Russia, since we already have a base there - a very good reason once again "not to ask for trouble." Moreover, it is necessary to introduce contingents in such a way that, if possible, somehow divide the warring parties by them, and the Russian base will provide a no-fly zone over the region. That is, even within the framework of the CSTO, it will most likely be an international peacekeeping operation, and not unequivocal support for one side of the conflict. And this will soften the situation again. The possible discontent of Azerbaijanis will no longer be unambiguously directed towards the Russian Federation. And local large "predators" like Turkey and Iran will not be so self-confident either.
Moreover, the Russian Federation and all of the above CSTO members, just besides Armenia, are, together with China, also members of the SCO, with Iran, India, Pakistan and Mongolia as observers. And this card, I suppose, must also be played. Even the passive support of China on this issue means a lot, especially given Iran's increased dependence on Chinese comrades in recent years. And China is hardly interested in a strong imbalance of the situation just on the territory of the construction of its Eurasian dream - the "New Silk Road", so there is a reason to intervene, at least at the level of moral
political
support. And maybe not only ... In this format, it seems to me, Azerbaijan will be "quieter" and all other interested parties will subside slightly. If the fact of the presence of alien terrorist groups in the conflict zone is confirmed, it is quite possible by joint forces, both the CSTO and the SCO, to organize a joint international counter-terrorist operation in the region, which is also directly in the interests of all participants.
If in this way the situation in Karabakh is taken under control, I consider necessary a general meeting of the heads of the CSTO member states plus Azerbaijan. At which, finally, the leadership of the Russian Federation, after describing the general state of affairs and confirming the presence of serious external threats in the post-Soviet space, should, as they say, point out the question of creating a new common perimeter of security and mutual integration, possibly similar to the Schengen space without internal borders ... This, in turn, will dramatically reduce tensions in places such as Nagorno-Karabakh. Moreover, it should be offered in such a way that it would be very difficult to refuse. And at the same time to remind that the next historical interwar period of the "parade of sovereignty" and "multi-vector" is inexorably coming to an end. And for now, you can choose a side voluntarily, in accordance with your historical experience, habits and real national interests. Soon it will all end and small states will simply start to derban stronger players, as it was before.
At the same time, I do not think that, at least at this stage, the PRC will somehow be against such a decision - they have a clear
economic
ways to expand their own influence, and they need to be convinced that the formation of a new large bloc without internal borders will only simplify their economic activities in the region.
And if Russia wants to develop further as a world superpower, or an empire, or simply the world's largest independent and self-sufficient state, whoever likes it, then it simply has no other way. And the sooner you start doing this, the more chances for success. Otherwise, following Pridnestrovie, Ukraine, Belarus and Karabakh, our enemies, "partners," will set fire to something else, which we are not indifferent to. They certainly won't stop. And we? ... Will we settle down again or, finally, will we take responsibility for the future of the peoples of Russia and those for whom Russia has assumed this responsibility for centuries? ... After all, where would the same Armenians be now without Russians? Apparently, only in history textbooks ... And everyone else, the same "independent", also have something to remember ...
So I personally like option # 3. Who is for - vote and write letters to our leadership. What if it helps?
I would really like that. If it works out, then it will definitely be easier to communicate with the rest of the world from such positions. It is also high time to toughly, and in no other way, finally solve the problems of Donbass and Transnistria, not paying attention to the howl of the "democratic and free" world. And there, you see, we will build Europe from Lisbon to Vladivostok, only on the conditions as we need it, and not to anyone else. They there, in the West, only declare freedom and democracy, and they themselves do not understand, do not perceive or respect anything but strength. And we also know this from our own rich historical experience.
Well, somehow ... And all this is not an ideology and development goal for a superpower? ... In my opinion, it is just quite suitable.