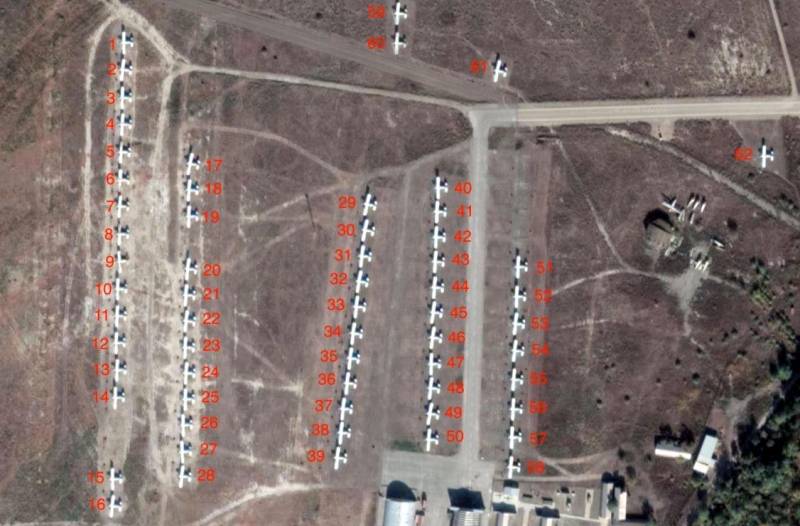 Pictures of An-2 aircraft of the Azerbaijani armed forces located at the Yevlakh airport have been published on the Internet. According to experts, Baku uses "unmanned" An-2s as decoys to detect the locations of enemy air defense facilities.
Earlier, the press secretary of the President of Nagorno-Karabakh, Vahram Poghosyan, announced the destruction of the Azerbaijani aircraft by the republic's military. Later, the press secretary of the Armenian defense department Shushan Stepanyan confirmed that the attacked combat aircraft was precisely the An-2. Its use for opening the air defense system of Armenia has become a kind of "know-how" of the conflict in Karabakh. However, the body of the pilot was not found.
Apparently, the Azerbaijanis use the An-2 in an "unmanned" mode. The steering wheel of the aircraft is secured with straps, and the pilot himself makes a parachute jump at a safe distance from the place of hostilities.
Earlier, the Ministry of Defense of the unrecognized republic published information about losses during the armed confrontation - in total, 48 soldiers of the Nagorno-Karabakh army have been killed since the beginning of the war, and more than 200 soldiers have been injured.
On September 28, Yerevan announced the advance of Azerbaijani troops in Nagorno-Karabakh. On the same day, the attacked side informed about the destruction of a dozen tanks of the Azerbaijani Armed Forces. In Baku, 26 civilians of the country have died as a result of shelling during the conflict. According to the General Prosecutor's Office of Azerbaijan, the Armenians chose rural settlements and civilian infrastructure as targets for attacks.