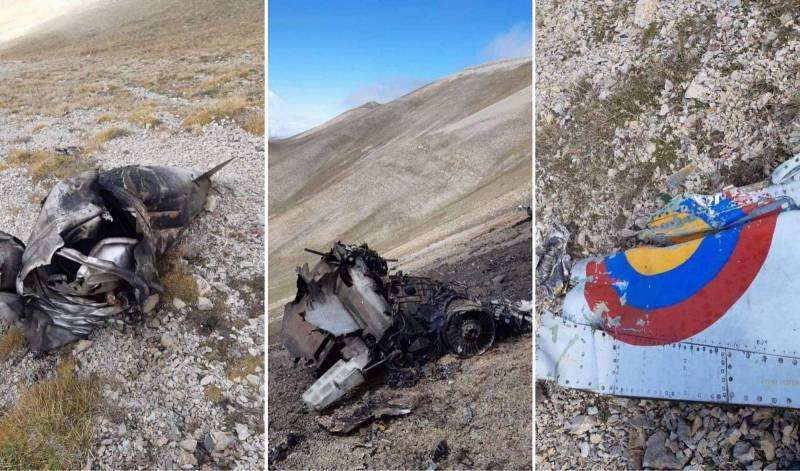 Photos of the remains of the Armenian Su-25 attack aircraft on the ground appeared on the Web. The charred engines are clearly visible, as well as part of the wing with the emblem of the Armenian Air Force.
According to the Armenian Ministry of Defense, on September 29, a Turkish F-16 fighter shot down a Su-25 attack aircraft. The incident took place over the territory of Armenia. The pilot of the attacked combat aircraft was killed. It turned out to be a pilot of the Armenian Air Force with a Russian surname - Major Valery Danelin.
The F-16 of Turkey took off from the Azerbaijani airfield in Ganja, the purpose of the fighter was to cover the aviation of Azerbaijan, striking the settlements of Armenia. The Armenian military department has published the wreckage of the downed attack aircraft.
Meanwhile, Baku has named its version of the incident. Head of the Department for External
policy
To the administration of the Azerbaijani President, Hikmet Hajiyev said that on Tuesday, September 29, two planes of the Armenian Air Force crashed into the mountain and crashed - no one shot down anyone.
According to Hajiyev, Yerevan's data on the Turkish fighter's attack on the Su-25 is nothing more than disinformation, misleading citizens and the public. In fact, the disaster happened due to the fact that two Armenian attack aircraft flew into the mountain. Hikmet Hajiyev calls on the Armenian leadership to publish information about the second plane that crashed.