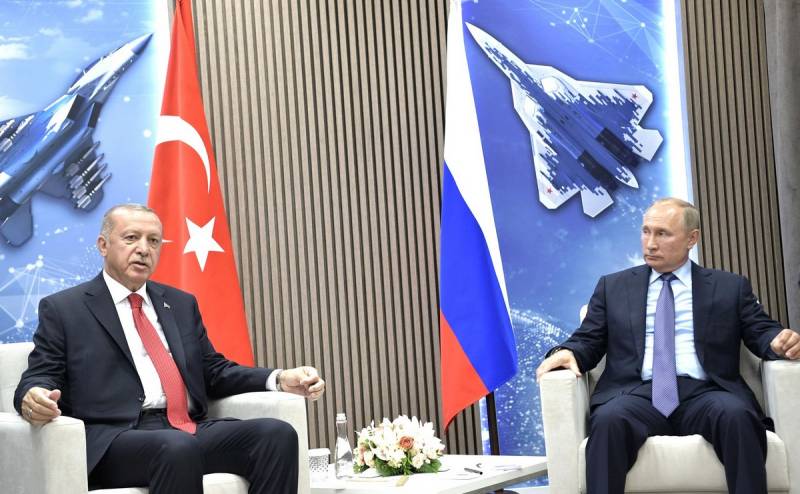 In an atmosphere of a tight knot of contradictions in the Mediterranean between Turkey on the one hand and Greece and Cyprus and France, which supports them, on the other, the likelihood of finding points of contact between Ankara and Moscow is ripening. Perhaps Russia and Turkey are moving towards a strategic alliance in the region. Writes about this specialized edition of the Middle East Monitor (MEMO).
Putin and Erdogan are, in fact, the only significant players in Libya claiming spheres of influence in that country. It is likely that Russia and Turkey will determine the further development of Libya. Thus, during the second round of talks held in the Turkish capital on September 16, Moscow and Ankara approved an agreement on the cessation of hostilities - in the future, this could lead to stabilization of the situation in this belligerent country.
Turkey has recently stepped up its gas exploration claims in the eastern Mediterranean. Since NATO, as a unified bloc, is not active, France alone decided to keep
political
the status quo of this region. However, this status is unlikely to be stable - it is quite possible to write a new political treatise, given the nature of the rapprochement between Turkey and the Russian Federation.
The mutual interests of Turkey and Russia are likely to lead them to create a real union
- note the MEMO experts, pointing to the success and effectiveness of the negotiations between Moscow and Ankara, as an important condition for such an alliance.
Russian Foreign Minister Sergei Lavrov is making diplomatic efforts to resolve the conflict between Greece and Turkey - this indicates the growth of Russian influence where, until recently, NATO almost completely dominated.