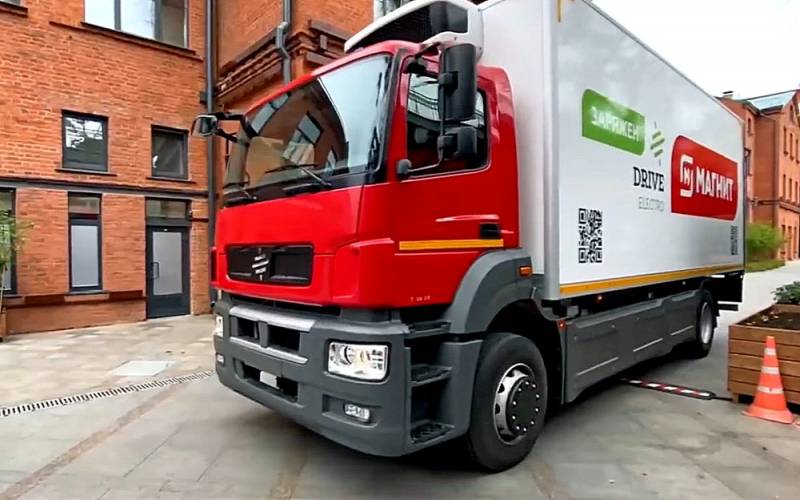 The first domestic electric-powered heavy-duty vehicle was delivered to the Magnit retail chain. The truck will be tested on Moscow roads for 6-12 months, delivering products from a distribution center in Dmitriev to stores throughout the capital. If the tests are successful, Magnit will start purchasing more such vehicles. The first batch can be 200 units.
The Drive Electro company is engaged in the release of electric heavy-duty trucks, which previously noted the development of batteries for the capital's electric buses. According to the manufacturer, due to the longer service life of the main components, the cost of these electric cars in 10 years will be 25-30% lower than that of conventional trucks.
The new heavy truck, named Moskva and based on the chassis from KAMAZ, is equipped with an electric power plant with a capacity of 229 kW (312 hp) and a torque of 1400 N * m. The carrying capacity of the 9-meter truck is 9 tons with a dead weight of 10 tons.
Moskva can accelerate to 110 km / h and travel up to 200 km on a single charge, which is quite enough for Magnit, since 40% of the stores in the entire chain are located at a distance of 80 km from distribution centers. The car is equipped with an isothermal container with a refrigeration unit and a tail lift with a lifting capacity of 1,5 tons.
The new domestic heavy-duty vehicle supports two charging modes: a daytime charge of 20 minutes and an 8-hour night charge. In this case, to replenish the battery capacity, you can use a conventional 380-volt industrial network.
Drive Electro claims that the Moskva electric car is fully adapted to the domestic climate and has a minimum noise level. In turn, experts from the Magnit company emphasize that one such truck is able to reduce carbon dioxide emissions into the atmosphere up to 87 tons per year.