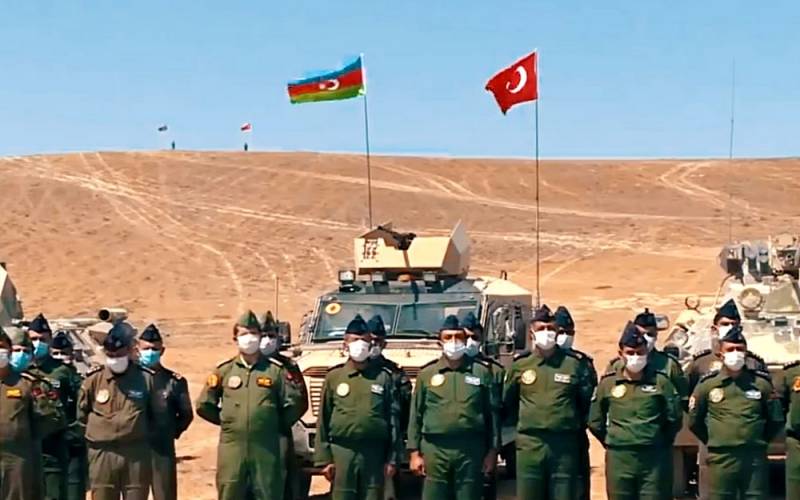 Last Sunday in Nagorno-Karabakh, another clash took place between the Azerbaijani and Armenian military. There are human casualties on both sides, many combat units have been destroyed
equipment
... What are Baku and Yerevan trying to achieve and who is really behind this aggravation?
The Karabakh conflict has a very long and complex history. Both parties, so to speak, are accustomed to it, and this problem is an integral part of the internal and external
policy
Azerbaijan and Armenia. Official Baku turned the issue of the return of Nagorno-Karabakh into a national idea and inevitably became its hostage, like Tokyo and the Kuril Islands. President Aliyev directly stated yesterday:
A successful counter-offensive will end the occupation and injustice that has been going on for nearly 30 years. The people of Azerbaijan want to live on their land. A citizen of Azerbaijan is living this dream. The exiled from their native lands want to return to the lands of their ancestors.
Every year Baku invested in its army more funds than is available in the entire state budget of a small and poor Armenia. Aliyev was further reassured by the direct and unequivocal support of Ankara, which called the Turks and Azerbaijanis one big divided people. It is reported that an elite special forces detachment is preparing to come to the rescue in Turkey. It is easy to guess that it was precisely the position of President Erdogan that gave additional courage to Baku. It is necessary to figure out why the aggravation in Nagorno-Karabakh Ankara.
At first
, this is an undoubted instrument of pressure on the Kremlin on the issue of Syria and Libya, where our country is on the other side of the conflict. Currently, Russian and Turkish diplomats are negotiating the future of both of these states. If Ankara provokes Moscow to stand up directly for Armenia, it means a break in normal relations with Azerbaijan, which the Kremlin clearly would like to avoid. Aggravating the situation in Nagorno-Karabakh, President Erdogan undoubtedly knocks out concessions for himself on the Syrian and Libyan issues.
Secondly
, do not forget about
economic
component. Turkey has long sharply reduced the volume of purchases of Russian gas, and soon the previously signed contracts for its supply expire. Ankara made it clear that it expects additional discounts from Moscow. To make the Kremlin think better, the largest Turkish oil refinery stopped buying Russian oil the day before. President Erdogan is clearly not averse to knocking out new discounts from "friend" Vladimir on the quiet, giving him an additional headache in the South Caucasus.
Apparently, these factors will ultimately become decisive. If Ankara and Moscow can come to an agreement, then the offensive of the Azerbaijani military will be limited. If not, then a full-scale offensive could begin in Nagorno-Karabakh with the active support of weapons from Turkey. In the future, the flames of war can spread to the territory of Armenia, which will force Russia to intervene as an ally in the CSTO.
Does the Kremlin need another war with incomprehensible goals and extremely dubious outcomes? The question is rather rhetorical.