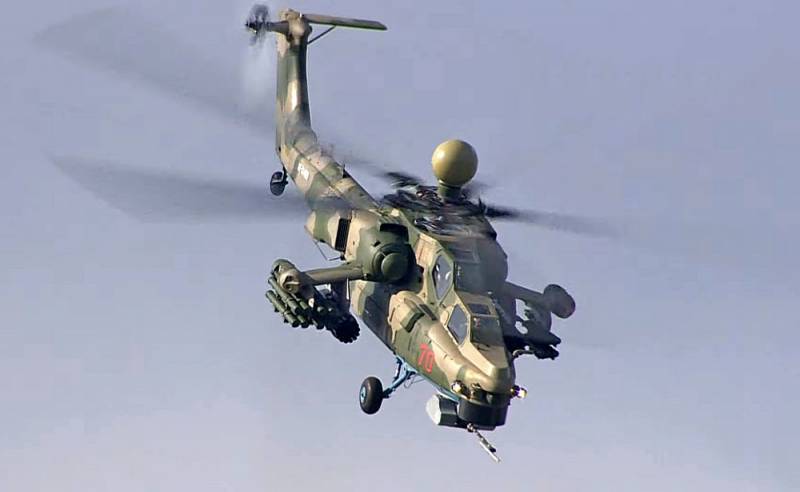 Participation in the Syrian operation allowed Russia not only to "test" the military
machinery
in real life, but also to identify its weak points. Thus, the previously advertised Mi-28 Night Hunter attack helicopter almost failed a practical test.
It turned out that the sighting complex became the weak point of the combat vehicle, the problems with navigation of which, paradoxically, were revealed precisely at night. The shortcomings revealed in time made it possible to create a modified version of the Mi-28NM helicopter, recently demonstrated at the Army-2020 forum.
It should be noted that the changes affected not only the sighting complex. In general, the Mi-28NM can be safely called a new machine. The helicopter received new on-board electronic warfare equipment, a night vision device, a complex for suppressing the heads of homing portable anti-aircraft missiles, as well as a highly effective all-round radar. Naturally, the "problem" sighting complex was also replaced. At the same time, the modernization touched even the elements of the load-bearing structure. As a result, the "survivability" of the combat vehicle significantly increased when fired by 20-mm shells.
However, the benefits of participating in the Syrian operation were reflected not only in the "Night Hunter". Thus, the Mi-8AMTSh "Terminator" became a full-fledged transport and assault helicopter, and the Mi-171Sh "Storm" received new power plants at all, adding in speed and altitude.
Finally, do not forget about the new development of the Russian Helicopters holding, which presented new "saber" blades, which will allow, without any changes in the design of the machine itself, to increase its speed to 400 km / h, as well as to reduce visibility by as much as 11% ...