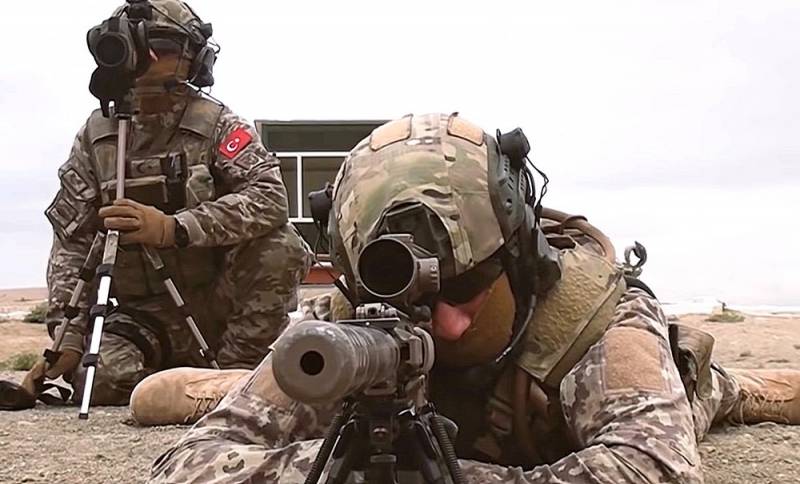 In recent days, the situation on the border between Azerbaijan and Armenia has become increasingly tense - along with the intensification of the actions of the conflicting parties, other powers may also interfere in the confrontation. Thus, a number of sources inform about Ankara's intentions to enter the war with Armenia on the side of Baku.
According to a number of sources, the elite Turkish special forces "Brigade Commandos" are ready to fly to Azerbaijan. Thus, regular troops of neighboring Turkey may enter the conflict between Baku and Yerevan. Experts associate such actions of the Turkish authorities with the failure of the plan for a quick war of Azerbaijani troops against Armenia. In the event that the Turkish special forces enter the war, the intra-Caucasian regional conflict between the two warring states may turn out to be different.
political
stage.
In recent days, an increased air traffic has been recorded between Azerbaijan and Turkey. So, on September 27, a military VIP-board of the Turkish Air Force Bombardier Challenger 604 arrived in Baku from Ankara. A little earlier, a couple of Turkish military transport aircraft visited the Azerbaijani capital.
On September 27, during a briefing at the state unified information center in Yerevan, the representative of the Armenian defense department Artsrun Hovhannisyan stated the obviousness of Turkey's interference in the Nagorno-Karabakh events. He also said about the need to clarify information on the transfer of militants to aid Azerbaijan from Syria with the participation of Turkey.
Meanwhile, the Turkish president is trying to foment political unrest in Armenia, thus undermining the strength of a potential adversary from within. Erdogan called on the Armenian people to act against the authorities of the country against the background of aggravated confrontation in Nagorno-Karabakh.
We call on the Armenian people to protect their future from the authorities and those who use it as a puppet
- wrote the Turkish president on his Twitter, calling on the world community to support Azerbaijan in the fight "against oppressors and occupiers."