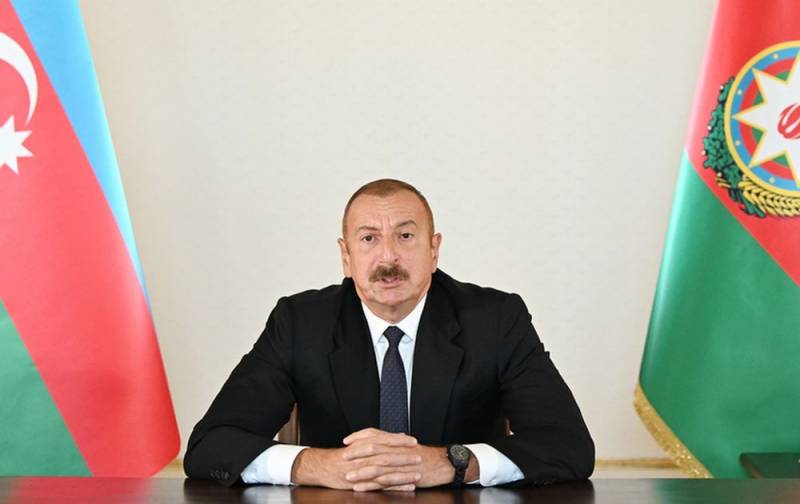 27 September 2020 years
after
For Yerevan and Stepanakert, the Azerbaijani parliament voted at an extraordinary meeting for the introduction of martial law throughout the country due to the aggravation of the situation in Nagorno-Karabakh. Azerbaijani President Ilham Aliyev immediately signed a relevant decree.
It should be noted that the VP in Azerbaijan is being introduced on September 28. Responsibility for organizing the curfew is vested in the country's Interior Ministry.
Before that, Aliyev held a meeting of the country's Security Council and addressed the people of Azerbaijan with a speech, the full text of which was published on the official website of the head of state.
As a result of the enemy shelling, there are killed and wounded among the civilian population and military personnel. May Allah rest the souls of our martyrs! Their blood will not remain on the ground. This is another manifestation of Armenian fascism. Now the Azerbaijani army is striking the enemy
- said Aliyev.
On the same day, Turkish President Recep Tayyip Erdogan called his Azerbaijani counterpart and expressed condolences over the death of civilians and servicemen of Azerbaijan. He stressed that Ankara will always be close to Baku.
At the same time, Armenian Prime Minister Nikol Pashinyan said at an emergency meeting of the country's parliament that Yerevan should seriously consider the issue of recognizing the independence of the Nagorno-Karabakh Republic.
We discuss all the possibilities, all the scenarios for the development of events
- Pashinyan specified.
The Prime Minister stressed that the situation in Nagorno-Karabakh "has not been fixed and is in development." According to the military, "the situation is tense," therefore, according to Pashinyan, it is too early to speak of "a holistic picture."
In turn, Moscow called on Baku and Yerevan to immediately end hostilities and sit down at the negotiating table.