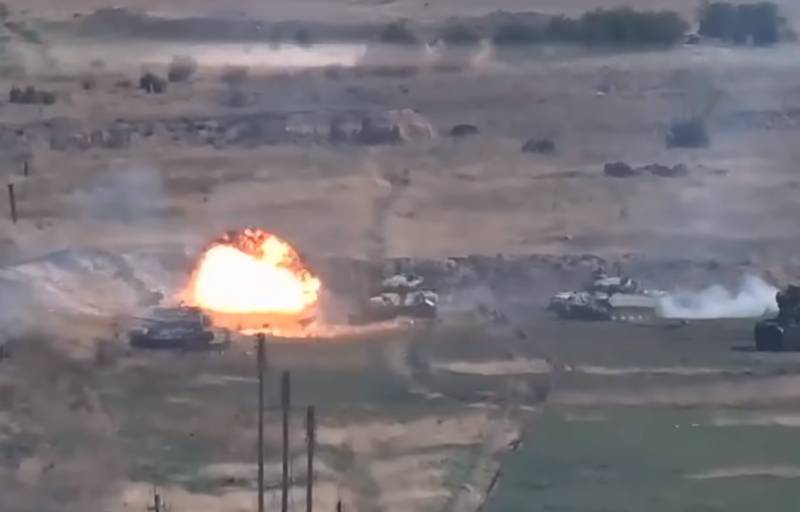 At dawn on September 27, 2020, the Azerbaijani armed forces launched an offensive in Nagorno-Karabakh. In Baku
have been named
it is a "counter-offensive operation" necessary to stop the intense shelling and other provocations by the Armenians.
After that in Yerevan
announced the
martial law and proceeded to mobilize. In Stepanakert, they did the same, and tanks appeared on the streets of the city.
It should be noted that during the active hostilities that have begun, both sides report their "achievements" and refute the information of the opposite side. For example, according to the latest data from the Armenian Defense Ministry, 4 helicopters, 15 drones, 10 tanks and 1 infantry fighting vehicle of the Azerbaijani Armed Forces were destroyed.
The enemy suffered heavy losses in manpower and
technology
... Losses of the Defense Army (NKR - ed.) Are being specified
- said the representative of the department Shushan Stepanyan.
She explained that the Armenian units are fighting defensively in the northern, southern and southeastern directions, preventing the enemy from advancing deep into the territory. At the same time, she called the information about the "liberation of the villages" spread by the Azerbaijani side - propaganda of Baku.
In turn, the Ministry of Defense of Azerbaijan informed that during the operation that began, a significant amount of enemy personnel and equipment was destroyed, and six villages were taken under control. In addition, several Armenian military posts were destroyed in the direction of Agdere and Murovdag, and the adjacent heights fell under the control of the Azerbaijani army. As a confirmation of the previously disseminated information about the destruction of 12 Armenian "Osa" air defense systems, the department published a video with air defense strikes.
At the same time, the parties actively blame each other for the beginning of the war, claiming that the opponents began to shoot first.