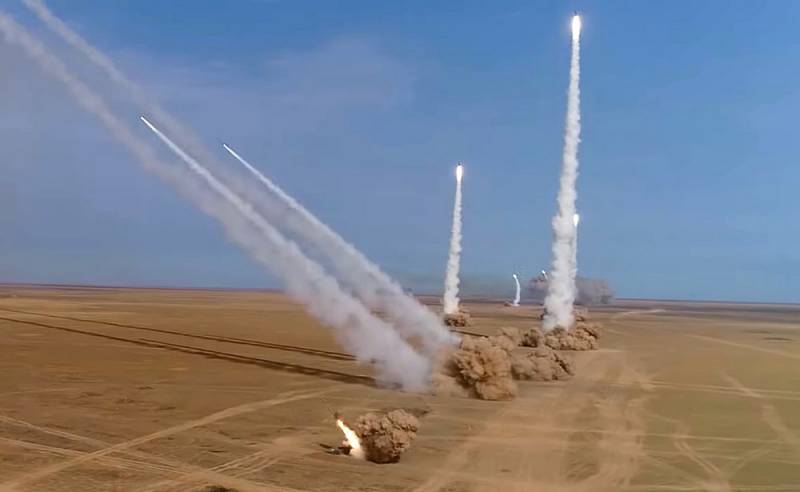 As part of the Kavkaz-2020 exercises, a massive launch of high-precision missiles at the targets of a mock enemy took place, the footage of which was published by the Russian Ministry of Defense on its YouTube channel.
In the foreground are shown 4 Smerch MLRS, 3 Iskander-M missile systems, which launch 9M723 quasi-ballistic missiles. In the background there are 2 more Iskander-M missiles, but they are launching P-500 (9M728) cruise missiles into the sky.
The description of the video says that the coalition group of forces, consisting of military units from Russia, Armenia, Belarus, China, Myanmar (Burma) and Pakistan, completed the exercises by defeating a mock enemy.
Netizens commented on the video:
Just like the Third World War, so many missiles, and everything in the sky. But let all the launches be training! Military fellows!
- wrote Vadim Pudovochkin.
If it had not been conditional (the enemy - ed.), After being hit, it would have immediately become conditional
Simiral Entertainment pointedly remarked.
Congratulations to Russia on the Caucasus-2020 exercise! Russia, not a step back!
- stated Peter Ombudsman.
It looks cool! I think this is done so that our "partners" do not rub off the coast
- noticed Maxim Lozhkin.
Power and mesmerizing strength!
- Serik Sabaev noted enthusiastically.
Not the missiles wins, but the infantry. And there is less and less of it ...
- pointed out Eldar Davıdov.
Delight, but with a hint of fear
- appreciated by Bianca Naturally.
Horrible power. But these are just a few Iskander missiles. We are able to hit with several tens at once. More than three dozen launchers have been deployed in Kaliningrad alone
- writes Ivan Tolstoy.