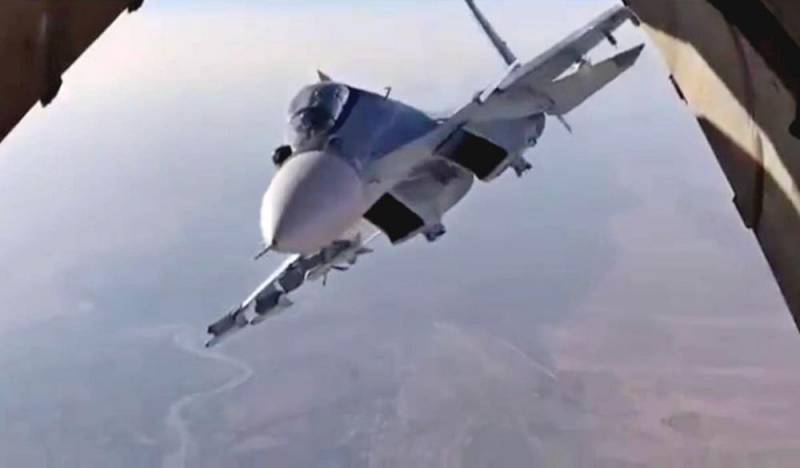 In December 2017, the two-seat multipurpose Su-30SM of the Russian Aerospace Forces "looked" into the IL-76 cargo hold in the skies over Syria. The video quickly spread around the world, gaining tens of millions of views on social networks and on YouTube. The leading mass media of the planet wrote about the skill of Russian pilots. After that, pilots from other countries tried to repeat this trick.
It should be noted that on that day, the Russians carried out a planned flight to deliver humanitarian supplies to remote areas of the war-torn country. The transporter and escort took off from the Khmeimim airbase. It was then that the supersonic Su-30SM flew up and "hovered" near the subsonic transporter, maintaining the minimum distance.
In August 2019, the Ukrainian pilot Yuriy Bulavka decided to repeat this on the Su-27 of the Ukrainian Air Force. For this, even a special photo session was held, which attracted the attention of local Russophobes and pro-American activists.
I would very much like the next one-on-one video to be from the F-22 (which would have been in service with Ukraine)
- commented VV Doctor.
Now the Americans decided to try to repeat the trick of the Russians. They also arranged a photo shoot, but made the task more difficult by fitting four combat aircraft to the cargo compartment of their transport aircraft (two F-15 fighters, one Panavia Tornado fighter-bomber and one Eurofighter Typhoon fighter) to arrange even more window dressing. The Americans tried to line up a group of supersonic fighters in a straight line, maintaining a short distance from the subsonic "truck" and among themselves. But for them, this task turned out to be difficult.
All this indicates that the stunt of the Russian crew touched colleagues from other countries. Therefore, there is a high probability that other similar videos will appear.