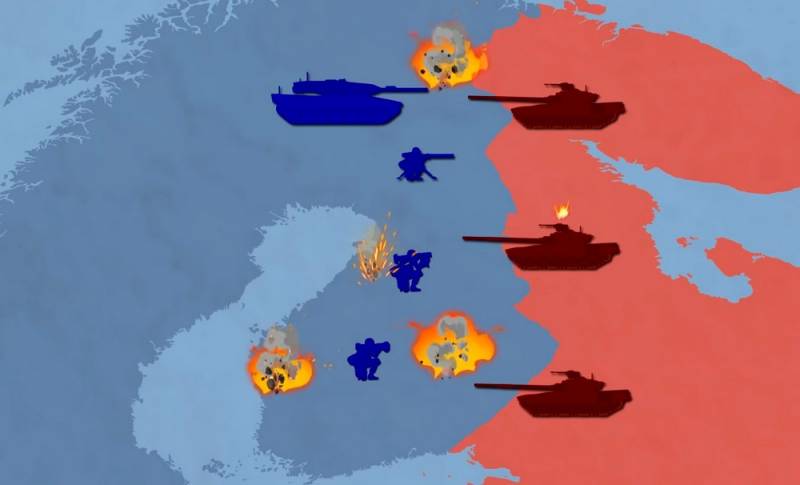 The battles of the Soviet-Finnish war died down more than 80 years ago, but historians and military men from different countries are still analyzing the details of that conflict - although victorious for the Stalinist USSR, but very bloody. The Croatian military analytical channel Binkov's Battlegrounds has released a video that presented a possible scenario of the war between Russia and Scandinavia in modern conditions.
Although Finland is not a Scandinavian country, it can play a very important role in a hypothetical military conflict. Since it has a long border with the Russian Federation, it will find itself in a difficult position, and it will need allied reinforcements. The Russian army has many more soldiers than the Finnish, but the latter has many well-trained reservists in reserve.
A large role in this war will be played by the Russian fleet in the Baltic - very powerful and numerous. Russian troops can capture Gotland and the Aland Islands, but only under the conditions of the domination of Russian aviation. Russia has more aircraft, but the Scandinavian countries have more combat capability. Nevertheless, the numerical superiority of the Russian Air Force will be decisive. In addition, the Kremlin will be able to take advantage of its advantage in the number and range of missiles.
For the Russian army, the main difficulty will be overcoming the natural barriers of Scandinavia - forests, lakes and swamps will slow down the advance of troops, and the Russian Federation can use artillery, as well as numerous tank formations and infantry fighting vehicles.
Over time, the Scandinavians will be left without aviation. Russia will cut off the south of Finland, but this will cost the Russians great losses in manpower and
technology
... Six months after the start of the war, Finland will actually be surrounded, and after a while Helsinki will surrender. The Russian army will begin an offensive deep into Swedish and Norwegian territories, but vast forests will hinder its advance. At the same time, the Russian Federation will suffer heavy losses - perhaps even greater than during the war of 80 years ago.
The terrible losses will break the fighting spirit of the Russians, there will be many deserters, and they may well not want to continue the hostilities.
- noted in the video as the only chance of the Scandinavians against Russia.
Undoubtedly, the Russian Federation will emerge victorious from the war against the Scandinavian countries, but its human casualties will be incalculable. Does Russia need such a "Pyrrhic victory"?