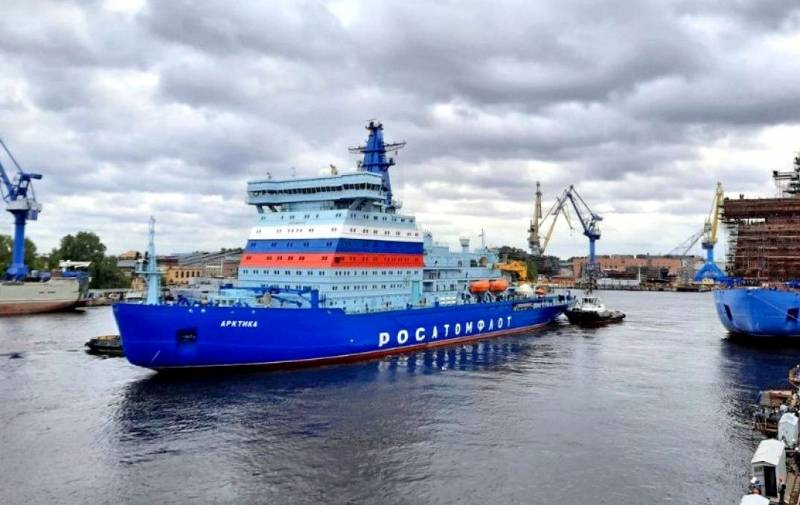 American netizens commented on Fox News website
news
on the launch of tests of the newest Russian atomic icebreaker of project 22220 "Arktika", which departed the day before from St. Petersburg to Murmansk. It is noted that the new Russian nuclear-powered ships are already surpassing the US Coast Guard icebreakers, which are only scheduled for construction overseas.
The report also says that Arctic Region Coordinator James DeHart will tour Washington-friendly countries in the region to advance US interests in areas from security to energy.
Some user comments.
[…] Our nuclear submarines are already serving for Arctic exploration. What is the point in breaking the ice if you can just swim under it, immersed in the water anywhere? Why build a nuclear icebreaker when we have much more efficient methods? We could build a nuclear-powered ship as soon as possible, if necessary.

- supposes the reader ANESTHESIAMGR.
How many million cubic meters of natural gas do you plan to carry on a nuclear submarine?

- replies to the post of the previous user NewarkDays.
Haven't you read the article? The US is in a rush to build an icebreaker that can compete with the Russians. Several years before him

- writes a commentator with the nickname texashillcountry724.
This is the same energy company that built Chernobyl. I would not like to be on this ship

- trying to "joke" jiefei993.
If it's the same as everything else they put out, it will soon fall apart. Chernobyl on ice

- taunts SW629.
And when will the reactor melt?

- continues to pump the SAC-NKAWTG.
Russians can't do anything right except espionage

- it is supported by kingfish74658.
This is a stupid delusion. They can do what China can do. America, meanwhile, has turned into a pathetic paper tiger, run by the Black Lives Matters movement and Chinese agents in the Deep State. If White Americans Don't Wake Up and Crush Crime Democrats in November, America Will Be Done

- reminds EugeneLevich of the previous commentator.
While Russia and China prepare to dominate the Arctic and plunder its resources, the United States [...] continues to condone violence on the streets of their own cities. […] I do not believe that we have icebreakers capable of maintaining a presence in the region

- garnufa047 laments.
Russia and China took advantage of our confusion with spectacular invasions in Africa, South America and the Middle East. The Arctic is another place where they will dominate unless we bring [the nation] back together

- says WestCoastIndependent9345.
Icebreakers and submarines are riveted while infrastructure is crumbling. This is Russia

- sneers pornstargandhi.
If the ice breaking technique does not work properly, the leaking reactor will melt the ice. In any case, this new vessel will fulfill its task

- is practicing the wit GordonShumway.
I hope he is better than their first nuclear icebreaker. This thing was so radioactive that they had to drop it at anchor at sea and evacuate the entire crew.

- writes ssbn632865.