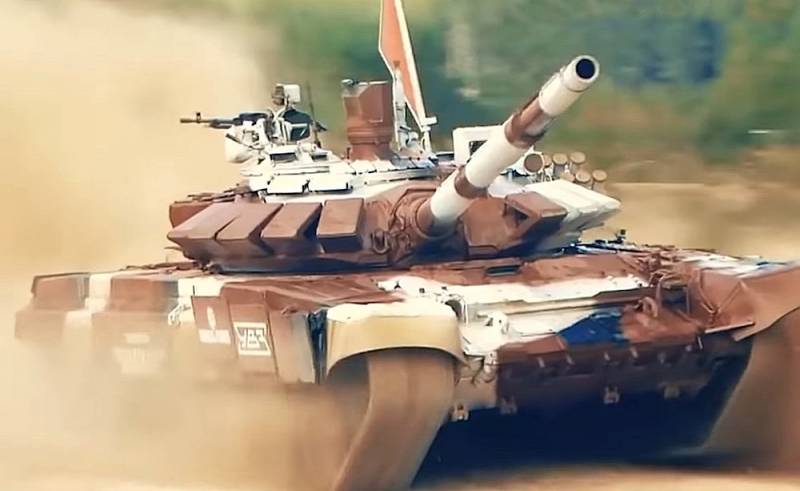 The Ministry of Defense of the Russian Federation intends in the near future to modify all existing T-72 tanks to the T-72B3M version. What characteristics will the updated combat vehicle have and what does the tank biathlon have to do with it? Let's figure it out.
At the moment, the T-72 of various modifications is the backbone of the Russian tank forces. It is believed that the current version of the combat vehicle is practically not inferior to the American "Abrams" М1А2С. However, the Pentagon intends to send 435 units of improved tanks to the army by 2024, which may violate parity. Therefore, we also need a new, more modern modification of the tank.
It is known that the new engine of the T-72B3M version will receive a power of 1130 horsepower, which is almost a third more than its predecessor. The dynamic protection "Relikt", which will replace the "Contact-5", will increase the survivability of the combat vehicle by 15%, and the installation of the "Sosna-U" sighting system will improve the accuracy, speed and effectiveness of cannon fire.
We add here an automatic transmission, new tracks, active protection "Arena-M", as well as optimization of the location of fuel and ammunition. As a result, we get a tank, which, according to some military experts, will surpass the American "Abrams" of the third version.
According to Defense Minister Sergei Shoigu, all T-72s available in the army will switch to this modification in the coming years. At the same time, the new car has already begun to enter the troops.
When it comes to tank biathlon, many consider this competition a waste of money. However, this is not at all the case. In the course of such competitions, a combat vehicle is run-in under extreme conditions. The process is closely monitored by engineers, fixing technical indicators and identifying "bottlenecks". As a result, improved versions of the combat
equipment
, like T-72B3M.