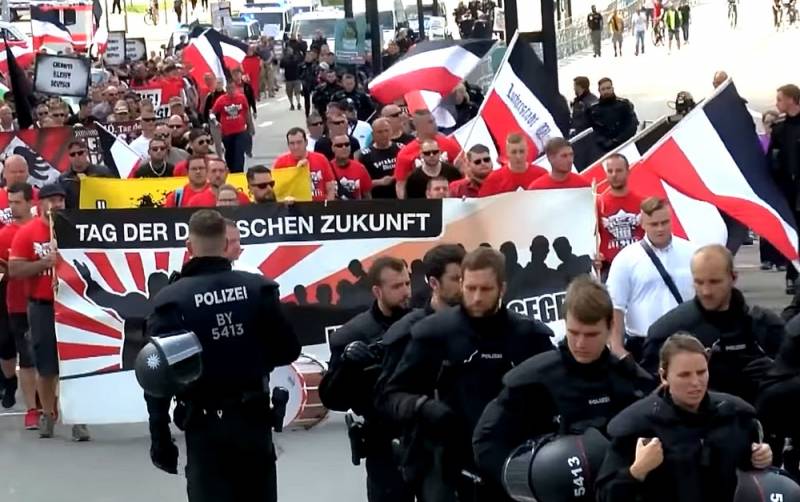 "Fascists" are our friends! ... And even that is not all. I will say more: from my personal point of view, the provision of overt or tacit support to precisely those who are now called so in the West is directly in the interests of the Russian Federation.
Strange, at least, the wording, right? Nevertheless, if we abstract from the generally accepted, or rather, even imposed in the modern media space, clichés, and with a deeper consideration, this idea does not seem so strange in today's conditions. And this is at once according to two principles that have already been repeatedly tested by time and practice, from which have long become either proverbs, or vital axioms: "the enemy of my enemy is my friend" and "there is no reception against a scrap if there is no other scrap."
Who are these "modern fascists"?
Taking into account the educated public, I will not delve into the history of the emergence of this term itself, which first appeared on
political
scene of Europe, namely in Italy, at the very beginning of the twenties of the last century, that is, long enough before the beginning of the well-known events in Hitler's Germany in the 30s and 40s, with which the term "fascism" in our country, and indeed in the world , historically associated. Aggression, the bloodiest war in history, war crimes, the Holocaust and other crimes against humanity - all of this somehow by itself immediately appears in memory when the term "fascism" is mentioned or the term "Nazism", which has already become almost synonymous, is mentioned ... And rightly so - it's true, it all really happened. Therefore, when even today someone is called "fascists" or "Nazis", the sane part of humanity has rejection and antipathy towards such characters or movements already by itself, automatically. And this is also correct.
But there are nuances. The fact is that in the political struggle, precisely for the sake of the rapid formation of this very automatic rejection and the creation of an initially negative public opinion in relation to certain people and structures, in the "fascists" or "Nazis" today they began to "write down" those who really are. not at all. In Western Europe, for example, it is already possible to become a Nazi or a fascist in the media space, if only to publicly mention the national interests of one's own people, the problems of mass alien immigration, or intolerantly speak out about the LGBT community, and the like.
In the mouths of liberal propaganda, almost all individuals, parties and organizations that somehow stand in positions of national interest or traditional values, as well as those who criticize newfangled "liberal achievements" such as multiculturalism, gay pride parades, the ubiquitous "tolerance", immediately become Nazis or their followers. or "parents # 1 and # 2". It's very convenient, and you don't need to explain anything to anyone: if you put the label "fascist" or "Nazi", it means bad, and there is nothing to vote for or even listen to. Like this. Simple, primitive, but unfortunately it works. The mighty of this world in a society of liberal freedoms in recent years in general somehow do not like to prove something to someone - everyone should just take their word for it. And we, that is, Russia, are not in the liberalized West, we are also "being led" to such tricks. And some people play this very successfully, especially knowing our acutely sensitive attitude to everything connected with the last World War and its consequences.
Recently, in one of the well-known political TV programs, I don't remember which one, a representative of Germany (of course, another "former our" is an emigrant. About "western experts" in Russian "talk shows" is generally a separate topic, I think, somehow to her I'll be back ...) mentioned another scandal that broke out the other day in German law enforcement agencies - staff members of the police and special services seemed to be sending among themselves some hard-hitting comments and jokes about racist immigrants. The German "free press and progressive public" once again came together in horror - well, neither give nor take the Nazis! This has no place in the organs! And the Russian studio, of course, almost assented in chorus - yes, they say, horror, again the rehabilitation of Nazism! And did they think at all, to whom they assented? ... Or just by inertia? ... But they assented precisely to those who today are the most popular of all the hype Russophobia, sanctions, double and triple standards, all these stories with the Skripals, Navalny, doping, election interference, Nord Stream, Ukraine, Belarus, etc. etc.
This is not the first scandal of this kind in European armies and law enforcement agencies. It has already been repeatedly in Germany itself, in the Czech Republic, in Spain, Italy, Austria, Poland - statements, symbols, ultra-right sentiments. Usually, if something like that surfaced, it all ended in a public scandal and layoffs. Open membership in ultra-right parties or participation in their actions is taboo for servicemen and other security officials. More often than not, the same is true in the EU, publicly or privately, but applies to teachers and civil servants. And such organizations themselves in Europe are everywhere and very diligently put on labels of Nazism and Fascism in order to marginalize in public consciousness and oust them from mass political life. But if, I repeat, we digress from these very labels, and at least read the programs of many so-called nationalist, right-wing and ultra-right parties, then, to our surprise, we will see there about the same thing that the Russian Federation recently wrote in its own new Constitution , and against what this very liberal West protests so fiercely. And in relation to Russia, these very European rightists, if they do not immediately offer frank friendship, then at least pragmatic and business-like good-neighborly relations. Quite often, there are also ideas about the withdrawal of their states from the NATO and / or the European Union, as organizations limiting national sovereignty. And all this, too, is not to the liking of those in power.
Naturally, as they say, "the family has its black sheep" - each group of people has its own odious activists and / or their mindless followers. They also exist among the "left" and "right", "green" or in religious communities. In this case under consideration, it is they who walk with torches, draw tattoos with a swastika on themselves, beat people of a different skin color on the street for no reason, etc. Yes, and it is. But it is still not even they who are dismantling monuments to Soviet servicemen during the Great Patriotic War in European cities, they are not renaming streets and rewriting history textbooks of their countries. This is now being done by precisely those against whom the European right and ultra-right are themselves opposing - the so-called liberal elite, who have seized power almost everywhere on the Old Continent.
"The enemy of my enemy ..."
It just so happened that with many typical representatives of the European right, as well as regular servicemen of the same Bundeswehr, or the Czech, Slovak, Hungarian, Austrian and some other armies and power structures, I talked quite a lot and in the most relaxed atmosphere ... Moreover, not all of them at that time had any idea of ​​who I really was and where I came from. That is, the conversations were really frank. From this interesting experience, the first conclusion is that they are quite adequate people who love their country and quite soberly assess the situation at home and in the modern world. The second conclusion - if someone really knew how to read people's minds, and on the basis of this, the European governments would decide to purge their own security officials about the so-called ultra-right views, then these very armies, police, special services, etc. the respective countries would instantly decrease by at least two-thirds of their numbers. But this is already strong! That is, the thoughts and attitudes of the majority of these people, who ensure the security of this or that state and its system, are almost completely contrary to the policy officially pursued by the governments of these countries, and the European Union or NATO as a whole. What this can lead to - I will say below.
Among those with whom I communicated in this manner, there were also people who voluntarily, both legally and not, participated in various armed conflicts, not excluding Ukrainian. Here is the third conclusion - there are very few really ideological among them. You can treat these people as you like, but all of these are mostly kind of romantics - those who just want to fight, feel like a hero, etc. Real combat motivation in such cases, as a rule, comes already in the process itself - the death or injury of a comrade, anger, herd feelings among "friends" and antagonism to "aliens," not least front-line propaganda, can affect. In Ukraine, by the way, no matter how silly it may sound to the uninitiated public, some people were initially simply impressed by the symbolism used "a la the Third Reich". For many, the romance of imperial eagles and swastikas has not gone anywhere. One cannot but agree - the Nazis had everything in order with the design of the symbols, worked perfectly, and still works. And here I will say a completely seditious, from the Russian point of view, but a really important thought: one cannot ignore the fact that for many Europeans, and not only Germans, this is still a memory of the courage and heroism of their grandfathers and great-grandfathers, far from all of who were war criminals. The fact that today it is almost universally forbidden symbolism does not negate the historical memory of generations. At the same time, in the overwhelming majority of cases, there is no real support for Nazism, Russophobia or revanchism under this for a long time. It sounds crazy to many, but it is exactly so. And there are many examples of this. The soldiers of the Bundeswehr in Afghanistan, who painted palm trees on their combat vehicles in the style of the African Corps of the Wehrmacht during the Second World War (only without swastikas, of course), who were subsequently dismissed without pay for this, were not ideological Nazis.
People who admire the German army during the First or Second World War, and happily don the appropriate uniforms at various historical events, at the same time look after Soviet and American military graves, clean graves and lay flowers on them with respect to the soldiers who died on their land ... Citizens of right-wing and nationalist views came out in Prague to demonstrate against the demolition of the monument to Marshal Konev, together with the communists. At the same time, some punks and Antifa activists (anti-fascists) are pouring red paint on the same Soviet monuments, ardent supporters of democracy and freedom are repainting Soviet tanks and guns on pedestals pink, and liberal politicians are issuing orders to dismantle the monuments of Soviet military leaders. liberated their countries from this very fascism. But we, Russia, publicly interfere with the mud and accuse the former of the rehabilitation of Nazism and an attempt to revise the results of the Second World War, and with the latter we do business and communicate decently at the state level ... Where is the logic? Maybe it's not visual symbols and names that are more important, but real deeds and specific political programs?
By the way, even with regard to the latest scandal with the "fascists" in the ranks of the German police: nothing surprising, because these are the very people who face all the "delights of multiculturalism" every day. And it is for them the very power that they are obliged to guard by duty, tolerantly prohibits the publication of real crime statistics among migrants for fear of the massive appearance of "Nazism" among the indigenous population of Germany. And there really is something to hide - this statistics is simply terrifying. And if in modern Europe something can be characterized as manifestations of racism and similar things, then it really exists there, but exactly the opposite - it is expressed in the unprecedented privileges of various minorities, at the expense of the bulk of society.
And the same sane NATO military, on the other hand, often witness with their own eyes the direct results of the "export of liberal democracy" to various countries, as well as realize the consequences of all this for their own states. These pictures are very unsightly, and after that people also begin to pull "to the right".
Thus, in Europe today, as manifestations of fascism, misanthropy, etc., they are already beginning to designate simply the theses of ordinary common logic, which runs counter to the all-consuming perverted liberal morality. If in general it is possible to call it moral ...
Crowbar should be used against scrap
I think that now no one will deny the fact that Russia is again at war with what is called the "consolidated West." You can call this war whatever you like - political,
economic
, ideological, cold or hybrid - the meaning does not change. And you don't have to build any illusions for yourself. War is war, and it is always waged to destroy one of the opponents by the other, this is its main meaning. And in war, as you know, all means are good. Our enemies (they are not, to hell, partners!) Have already perfectly demonstrated this to us many times, they use absolutely anything for their own purposes - outright lies, forgeries, provocations, natural subversive activities on the territory of our country, as well as variation alliances with any forces capable of bringing them at least some benefit in any given area of ​​the struggle, including even outright criminals and terrorists.
And we? Are we behaving decently and not interfering in anything? Or, if we can and intervene, then somehow not very successfully - Trump, whom we allegedly chose, behaves towards Russia somehow not at all fraternally, and it seems like the Brexit organized by us did not bring any visible benefit to the Russian Federation either.
Joking aside, but somehow sad ... But our Nord Stream-2 has been successfully stopped by the enemy for the umpteenth time, Yuzhny has been completely destroyed in the bud, diplomatic property has been shamelessly confiscated, foreign assets and loans have been frozen, all sorts of sanctions have been introduced and are introduced further, as on a conveyor belt, in the former "fraternal" republics of the former USSR, right around us, the devil knows what is going on, or else it will be, our country is being "doused with mud" from all sides in the media space and accused of all mortal sins, and there is also this incomprehensible epidemic of an unknown virus that has come from ...
At the same time, there are real forces right in the enemy's lair that can play on our side, and we completely ignore them! And all because someone who always lies in everything tells us that they are, they say, "fascists", and we are fundamentally not friends with the fascists. Isn't it stupid? During the Second World War, was it normal to destroy the enemy with his own trophy weapon? After the war, was it normal to create your own atomic program together with the same "fascist" scientists? And here you go ... Principles! If then, in the forties of the last century, all of us would have been the same principled, the paintings of our soldiers on the Reichstag would hardly have appeared ...
So what to do? It is necessary in every possible way to support any forces on the territory of the enemy, if even not acting directly in our support, then at least having claims to the existing system. And there are many of them. Including the ultra right. And if, for example, the strength of the same Germany has historically always consisted in high organization and technology, then the strength of Russia, first of all, in morality and culture. And this is impossible to dispute. And now we can really offer people in the West what many clearly lack, what they are being deprived of against their will. And these are not material values ​​at all, of which there is just enough. This is what is called "soft power", which is much more dangerous than any weapon. This is the collapse of the state systems of enemy states and a decrease in the combat effectiveness of power structures. Can you imagine what two-thirds of the country's army is, on which one cannot rely one hundred percent? Or two-thirds of the police sabotaging the instructions they receive? But the foundation for all this is already ready - the militant liberals have laid it for themselves. You have to be a fool to see all this, not to use it to achieve a turning point in this war in our favor. After all, if you only defend yourself all the time, do not attack, then there will never be any victory. And any war ends only with the victory of one of the parties, there is no other way. And if we don't want to be losers, we need to be proactive.
It is necessary, as has been said more than once, yes, to spend money on this, but again to invite people not only from developing countries and the former USSR, but also from Europe, to our educational institutions - on the example of the latest Russian achievements in medicine and
technology
, including military and nuclear, we have a lot to learn. For military fans, organize excursions to our training grounds - shoot our weapons and ride military equipment. Success is also guaranteed. Officially at the state level to promote on a global scale the principles of protecting the same traditional values. Conduct meetings, organize forums and educational institutions abroad. And so on and so forth ... Expensive? Yes. Is the Russian Federation poorer than some Soros? Or is it not worth it? Can't afford it? Yes we can! And we even know from whom and what to take ... That would be decisive for this ...
Indeed, in this way we can put millions of people under our own banners. In this situation, for example, it is quite possible that a protest against anti-Russian sanctions will follow to the requirements for revising gasoline prices, the issue of the retirement age and social guarantees of "yellow vests" in France ... And Macron and the European Commission will have to deal with this, and not in the international arena, but at home. And this is not at all a utopia in the style of "direct flights from Moscow to Vasyuki". This was all already: the Bolshevik communists at the beginning of the twentieth century were confident in the progressiveness and benefits of their views for all mankind, and were not shy about slogans about the world socialist revolution, supporting like-minded people around the world. And there were millions of them, which also helped our country a lot later.
And, unlike what the forces of Western propaganda are doing within our state, this is not the formation of a certain European fifth column of traitors to their own national interests - it is the organization or support of the movement of people to ensure that their own states do not collapse and fall into a foreign occupation, looked the way they want it.
The enemy of the enemy is, if not a friend, then at least a possible temporary ally. And the one who is swinging the crowbar is better and safer to hit first, not waiting for his crowbar to land on your head ...