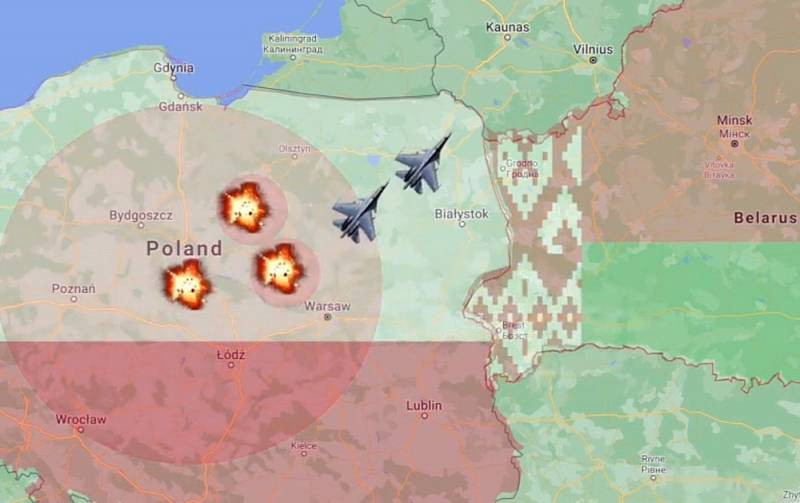 The American edition of Military Watch conducted a simulation of a potential military conflict between Poland and Belarus, reflecting the analysis on video. The assessment included the air, anti-aircraft, ground and strike capabilities of both countries.
Military experts believe that under certain circumstances, the growth of further tension between Warsaw and Minsk may lead to a real armed conflict, which will develop into a full-fledged war between the countries. At the same time, the United States, NATO and the EU countries will not fight for Poland, just as Russia will not participate in the confrontation instead of Belarus. Thus, Minsk and Warsaw will have to sort things out on their own, although the allies will not deny them some support.
The Belarusian Air Force has 38 MiG-29S, 12 Su-30SM and 21 Su-27 fighters, armed with R-27EP and R-77 air-to-air missiles with a range of up to 110 km. At the same time, the Polish Air Force has 48 F-16Cs armed with AIM-120C AMRAAM missiles with a range of up to 105 km and 18 Su-22M4 fighter-bombers equipped with outdated Kh-25ML, Kh-29L, Kh-29T and Kh-58U missiles. which do not pose a great threat to the Air Force and Air Defense of Belarus. In air battles, Minsk will have an advantage.
As for the air defense, then the advantage will also be on the side of the Belarusians. The presence of a large number of S-300, Buk, Tor-M2E air defense systems and the possible appearance of the S-400 in the near future will allow Belarus to create a deeply echeloned air defense system. At the same time, Warsaw can only boast of the presence of a small number of S-200 Vega and S-125 Pechora-2M air defense systems, which will be guaranteed to be destroyed by Kh-31P air-to-surface missiles.
In terms of manpower, there is a relative balance between the countries. Warsaw's slight superiority in tanks is compensated by the presence of 22 "flying tanks" in Minsk - Su-25 attack aircraft. Moreover, Belarus has a significant advantage in conventional and rocket artillery. In addition, Minsk has a powerful strike potential. Belarus is armed with 36 OTR-21 "Tochka" with a range of up to 185 km and OTR P-17, known as "Scud-B", with a range of up to 300 km, as well as local MLRS "Polonez".
As a result, the publication from the USA came to the conclusion that the outcome of the war would be sad for Warsaw, and victory would be for Minsk. Belarus has more powerful air force and air defense, and also has a serious strike potential in the form of missile systems.
Note that in the published Global Firepower rating for 2019, in which the military potential of 137 states of the planet was assessed, Belarus took 39th place, and Poland was in a higher 24th place.