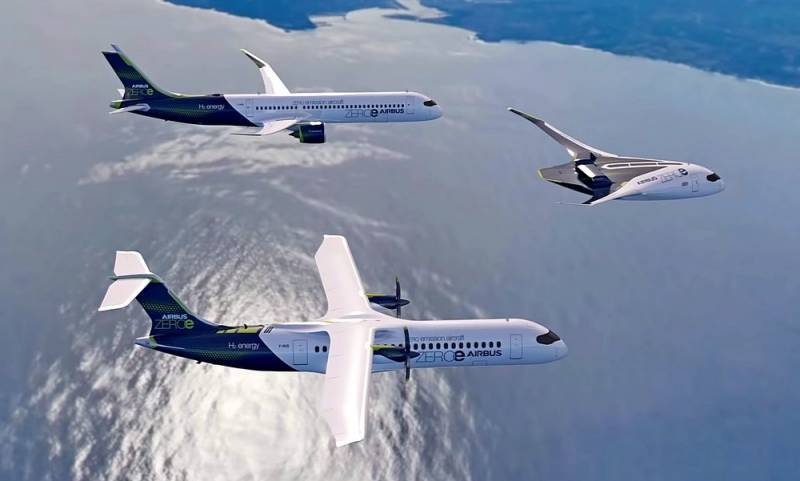 The European aviation giant Airbus has presented three concepts for a promising airliner that will fly on hydrogen fuel. It is assumed that such solutions will reduce the emission of harmful substances into the atmosphere to zero and can be put into operation in 15 years.
All three projects of promising liners received the symbolic code name ZEROe. The first passenger aircraft is designed for 120-200 passengers and will be able to cover a distance of over 3700 km. This, as the concern believes, is ideal for transcontinental destinations. The board is equipped with modified gas turbine power plants operating on hydrogen, and the fuel itself will be stored and distributed through reservoirs, which are located behind the rear sealed frame.
The second version of the liner will be able to fly over a distance of 1800 km and take on board up to 100 passengers. The aircraft operates on modified hydrogen gas turbine engines and is intended for domestic flights.
The third concept is a mixed-wing passenger aircraft. The liner will be able to take on board up to 200 passengers and cover distances of over 3700 km. At the same time, its design features allow the use of a variety of combinations of cabin layout and fuel storage.
Airbus Chief Executive Guillaume Faury said the concepts presented by the company will enable the study and selection of the ideal layout and design for the world's first zero-emission commercial aircraft. A promising aircraft is scheduled to enter service by 2035.
On the whole, the course taken by the aircraft building corporation fully fits into the "environmental doctrine" of the European Union. However, implementation of the innovation will require significant financial support from the state. In particular, to create the necessary infrastructure for transportation, storage and refueling of liners with hydrogen.