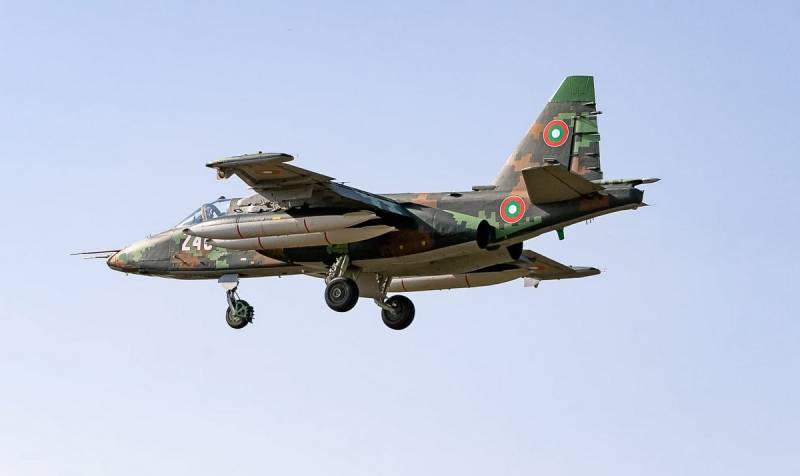 The Belarusian aircraft repair enterprise 558th Aviation Plant in Baranovichi will return the first two modernized Bulgarian Su-23 attack aircraft to Bulgaria on September 25, Capital reports citing the specialized aviation publication Aero. The source confirmed the information, specifying that the two flying machines should return to Bulgaria by the end of the month.
Sofia signed a contract to extend the flight life and modernize eight Su-25 aircraft permanently based at the Bezmer military airfield. The amount of the contract is about 99 million leva (1 lev - about 46 rubles). For this money, the resource of attack aircraft should be extended for at least 8 years.
However, Bulgaria is worried about the return of combat aircraft from Belarus, because Alexander Lukashenko said last Thursday about the possible closure of the borders of Belarus due to ongoing protests, as a "war" could begin. According to a number of sources, Minsk has deployed army units along the borders with Latvia, Lithuania, Poland and Ukraine.
The Bulgarian army is armed with 14 Su-25s, of which, until recently, only 5 were on alert. They must continue to carry out the tasks of direct support of troops from the air even after the arrival of the new F-16 Block 70 - the Bulgarians signed an agreement for the supply of 8 American fighters last year. The first 6 aircraft will enter the Bulgarian Air Force by the end of 2023, the remaining two - at the beginning of 2024.
Initially, the idea of ​​the head of the Bulgarian Ministry of Defense Karakachanov was to repair and modernize all Su-25s. To this end, he requested 49,2 million leva, with the possibility of increasing the amount to 99 million leva "if necessary" and in accordance with the decision of the Council of Ministers. Subsequently, it turned out that at Belarusian prices, even the maximum budget allocated by the Bulgarians would be enough to modernize only 8 of the 14 attack aircraft.