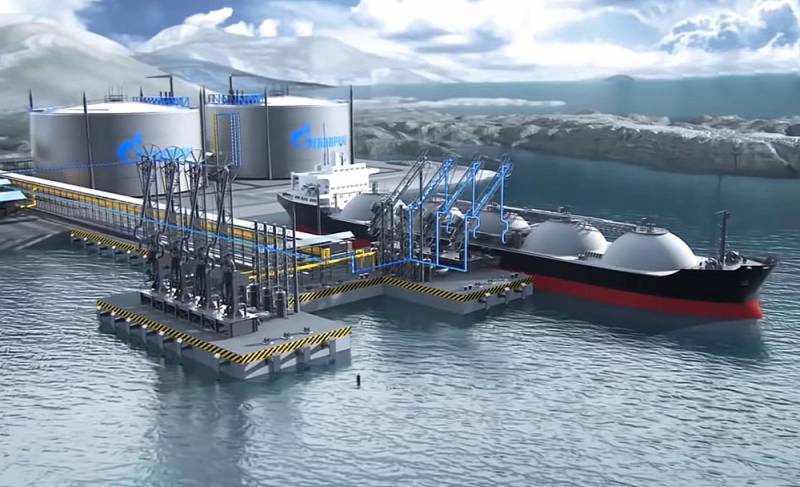 Pevek, Russia's northernmost city, is facing serious energy challenges. The local coal-fired CHPP has long been outdated, the Bilibino NPP is shutting down due to the expiration of its service life, and it is not advisable to install "wind turbines" here, since the Arctic wind is extremely unstable.
The problem of power supply to the settlement was partially solved thanks to the dispatch of the first Russian floating nuclear power plant "Akademik Lomonosov" to the local port. One load of fuel is enough to keep the floating nuclear power plant operating for 10 years.
In this case, the unloading of batches of the spent isotope is carried out every 3-4 years. And so that at the moment of "downtime" the city would not be left without electricity, it was decided to build a modern ground-based CHP in Pevek, which will insure the "Akademik".
All this is already great. But, as they say in Russia: "The trouble is the beginning." Thus, the idea of ​​building a floating power plant, similar to the Akademik Lomonosov, but working on LNG, came to the head of domestic engineers.
Central Design Bureau "Iceberg" took over the development in February last year. It became known last week that the project is ready.
The new floating TPP will consist of two ships: the power plant itself and the floating LNG storage facility. Its capacity will be 60 MW, and the storage facility will be able to hold 2000 tons of liquefied gas.
Construction will begin immediately after the appearance of the customer. And there are options here. First, such mobile thermal power plants would be extremely useful for the Arctic, where LNG storage could be replenished directly from local enterprises. Secondly, the new power plant could become insurance for the same Akademik. In this case, there will be no need to build a land-based thermal power plant in Pevek. And finally, thirdly, the LNG complex, which is less powerful than the "floating battery", could occupy a niche where a temporary and more budgetary solution is needed.
It is believed that floating LNG-fueled thermal power plants, which are quite simple to operate and relatively inexpensive to manufacture, can radically change the situation in the Far North. The region, which traditionally experiences a shortage of electricity, will be able to receive it with a reserve.