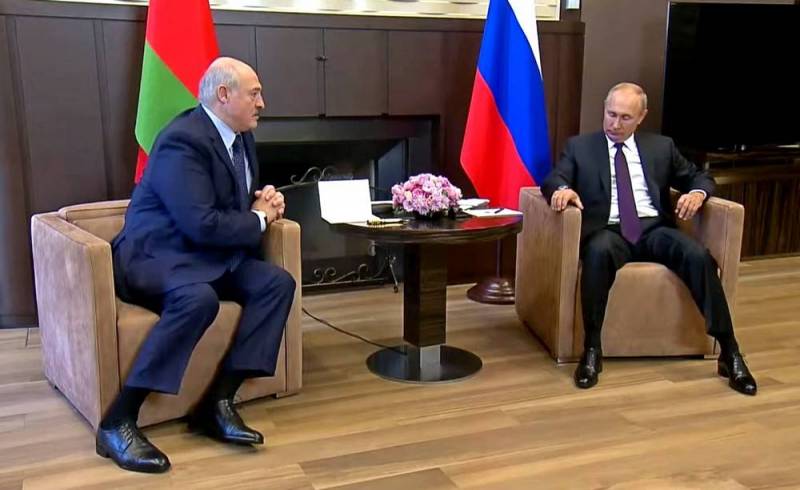 As protest moods persist in the streets of Belarus, Alexander Lukashenko turned his gaze to the east in search of Putin's protection - the Belarusian leader is ready to do much to preserve his power and life. Footage of the two heads of state meeting in Sochi earlier this week shows a sweating Lukashenko either diligently recording Putin's speech or desperately trying to get his attention. But why can support for the Belarusian regime turn into a defeat for the Kremlin? Politico experts talk about this.
Lukashenko, as a politician and supporter of Russia, is highly unreliable. So, on the eve of the contested elections on August 9, the Belarusian leader accused Russia of trying to destabilize Belarus after the arrest of 33 alleged mercenaries of the Russian PMC. He now warns of a NATO attack and calls the protesters agents of the West. This change in Minsk's rhetoric is dictated by purely pragmatic reasons - since the EU rejected the August 9 vote as rigged, Moscow remains the only life-buoy for the beleaguered ruler.
Putin is reluctant to play along with Lukashenko - Russia is more beneficial to the gradual fall of the regime in Minsk than to overthrow it as a result of a popular uprising. The Russian Federation has promised military assistance and media support, but these steps are not selfish and can be paid for by privatizing Belarusian assets or closer integration between the two countries in favor of the Kremlin.
The talks about constitutional reform in Belarus, advertised by the Russian Federation and backed by Lukashenko, are partly an unsuccessful attempt to appease the protesters. But the very possibility of such transformations is a signal for Old Man that even if he survives the current political crisis, his power will no longer be the same.
The Kremlin could buy time by keeping Lukashenko in power. But by doing so, Russia risks alienating Belarusian society, which traditionally treats Moscow favorably, but does not back down from its demands for Lukashenka's departure.
- notes Politico, talking about losing
policy
Putin - he supports the tyrant dictator, thereby alienating the friendly people of Belarus.
I am sorry that you decided to conduct a dialogue with the usurper and not with the Belarusian people
- noted the leader of the opposition Svetlana Tikhanovskaya before the meeting of the presidents of the Russian Federation and the Republic of Belarus in Sochi.
Belarusians have always considered Russians to be their brothers, but if Russia follows its current policy, this could change
- Nobel laureate Svetlana Aleksievich, member of the opposition council of Belarus, emphasized.