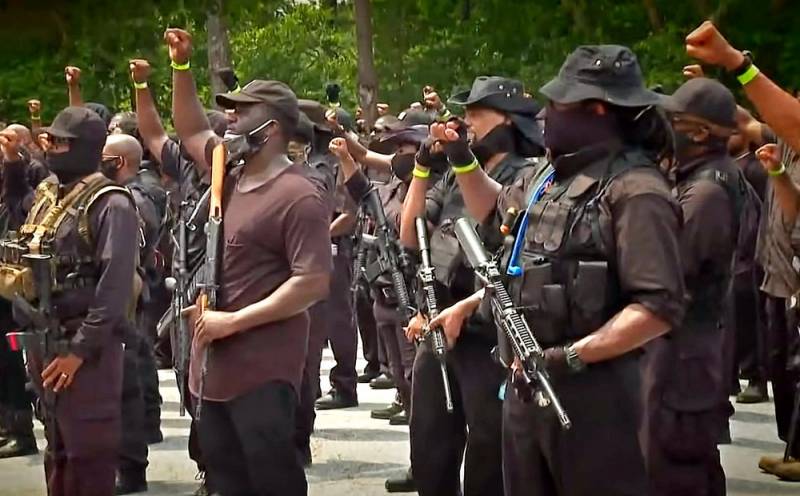 The US presidential election in November this year may be the most toxic in American history. Domestic political life in the United States is becoming increasingly polarized - the country is very likely to start a real civil war. Writes about this British edition of the Daily Mail.
Many large US cities (New York, Louisville, Portland, Rochester, etc.) now resemble scenes from the movie "Gangs of New York" - the streets are divided between criminal-ethnic groups, and their confrontation risks turning into a real armed conflict every minute ...
So, in one part of New York, a group of 250 African Americans, dressed in paramilitary uniforms and clicking the bolts of weapons, march. Elsewhere in town, white militias, the "patriots" of Trump, are doing the same.
The confrontation in Louisville (Kentucky) is also growing - here the "black" coalition NFAC is opposed by people wearing body armor and masks with a skull. Fighters from the back the Blue squad sympathetic to the authorities clashed with armed groups Black Lives Matter (BLM) - protesters used their fists and shouted their
political
slogans, amplifying them with megaphones.
No other scene can convey the ugliness of this presidential campaign so vividly. Most of all, one should fear that such a confrontation could result in a full-scale civil war - this will happen if the demands of one of the parties are not fully satisfied
- notes the Daily Mail.
Militant leaders say they only take to the streets as long as the other side does. In their opinion, they are acting in accordance with the American constitution, which provides freedom to carry weapons. However, the protestors' respect for the law ends there. The problem is aggravated by posts on social networks that provoke impressionable people to take to the streets and more than emotionally express their protest there.
Trump and Democrats accuse each other of misjudging the situation in the country, but no one will deny that the US is swept by a wave of violence and street robberies - they flare up every time another black American is killed by police actions.
Some experts believe that one of the reasons for the surge in violence on the streets of America ahead of the elections is the ability to vote remotely.
Many more Democrats than Republicans will vote by mail - this could ensure the victory of the current owner of the White House right on election day
- say political analysts.