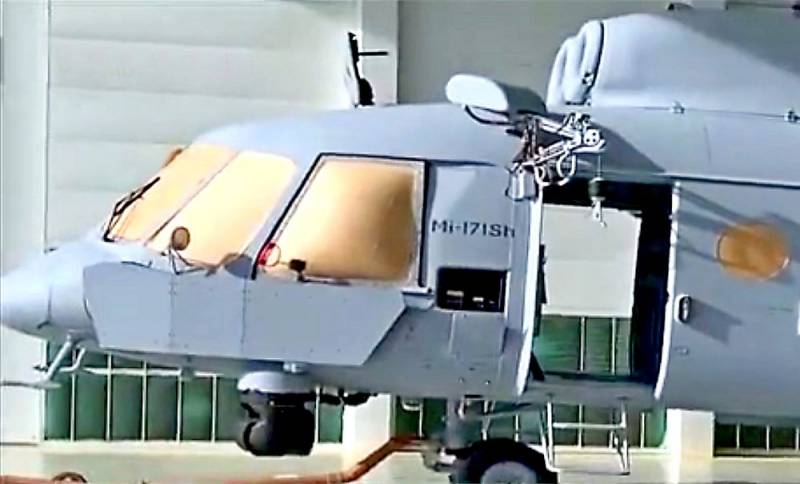 The American edition of The Drive became interested in the report of the Chinese TV channel Phoenix news, which spoke about a delegation from the PRC that visited the Ulan-Ude Aviation Plant in Russia. The footage showed the brand new Mi-171Sh attack helicopters ready to be sent to China. Experts from the United States were embarrassed by the light gray color of the combat vehicles, after which they called them "mysterious" and began to speculate about where and how Beijing would use them.
PLA has a long history of operating Mil's products and now it is ready to receive new modifications of helicopters. A batch of mysterious Russian drums Mi-171Sh is sent to China
- writes the edition.
Experts from The Drive noted that the color of the helicopters indicates that they will definitely not go to the PLA army aviation fleet, as there the rotorcraft are usually dark green or greenish brown. In their opinion, light gray is more suitable for the Chinese Navy. But experts could not find anything to indicate a naval version of the helicopter (deck or for the marines).
Being at a dead end, the Americans remembered that in one of the Chinese blogs dedicated to military aviation, it was said that the PLA had ordered a batch of Mi-171SH "with a complete set of airborne defense." They then suggested that the said helicopters would be operated by the PLA Special Operations Forces in the Himalayas, where there is a long-standing territorial dispute between Beijing and New Delhi. The mountainous terrain is difficult for most helicopters, but these machines are perfect for supporting special forces, including combat and search and rescue operations.
The powerful Mi-171Sh have an improved cockpit with a digital display and a new fairing in the bow, which houses a meteorological radar. They can accommodate 36 troops and have sliding doors on each side, through which it is convenient to fire from a standard 12,7 mm machine gun. After that, the publication came to the conclusion that the Chinese will not abandon Russian products for many years to come, since China itself does not have anything like it yet.