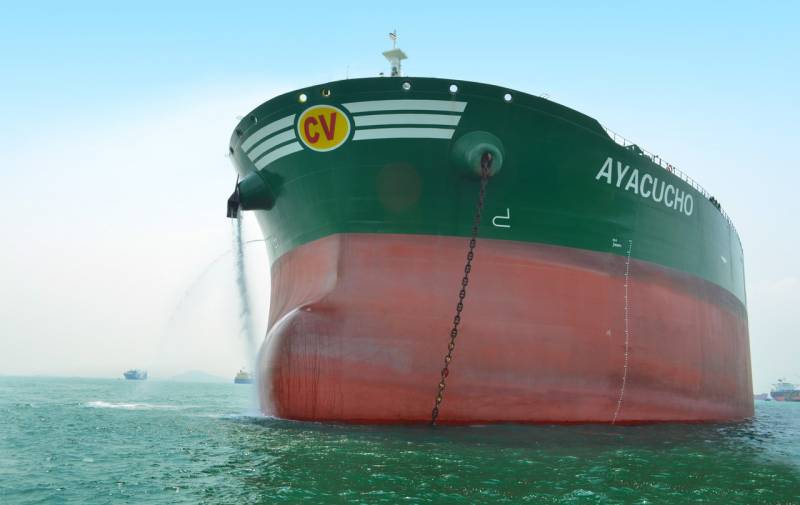 Arrived in the Russian tanker fleet. Standing motionless in the Caribbean Sea, the supertanker Ayacucho has changed the Venezuelan flag to the tricolor. What is behind this rather unusual event?
There are two registers of ships in the Russian Federation - Russian and international. The latter was created in order to attract foreign ships to fly the Russian flag. However, practice is such that even domestic shipowners prefer Cypriot or Liberian flags, as is done, for example, by Sovcomflot. It is all the more surprising that Ayacucho chose to turn into Maxim Gorky. On May 27, 2020, the corresponding entry was made in the international register of Russian vessels.
"Maxim Gorky", our unexpected "acquisition", is a Chinese-made supertanker with a carrying capacity of 320,8 thousand tons. It was the largest tanker fleet in Venezuela and will become one in Russia as well. Its closest rivals can lift 309 and 300 thousand tons, respectively. However, experts are already warning that under the tricolor this ship will hardly be actively used abroad.
The problem is US sanctions against Venezuela and Iran. The United States does not consider the re-election of President Nicolas Maduro to be legal, therefore it is putting pressure on official Caracas in all directions. A year ago, Washington blocked the country's assets, and London "withheld" the Venezuelan gold reserves. And now the United States has actively taken up the oil trade between Caracas and Tehran. There is no doubt that the re-registration of the supertanker to the Russian jurisdiction is associated with an attempt to bypass restrictive measures. So far, this vessel is not on the sanctions list, but this can be very easily corrected at any time. The tanker has been standing still for two years now, since it no longer has insurance or international certificates, which are needed to enter foreign ports. Apparently, President Maduro is counting on
political
the cover of their business by the Kremlin.
However, a number of experts express serious doubts that such steps will be able to achieve this. The United States actually closed the entry to international ports for Maxim Gorky, and nothing will prevent them from detaining the vessel during a voyage in the Caribbean on suspicion of transporting unsanctioned oil. In addition, this could lead to a further aggravation of relations between Washington and Moscow. Most likely, the "Russian" supertanker will have to forget about free ocean spaces. Experts name two possible areas in which the former Ayacucho can be involved:
At first
due to its gigantic carrying capacity, the vessel can be used as a floating oil storage. The spring six-week "oil war" with Saudi Arabia showed that Russia has an acute shortage of storage facilities for already mined "black gold".
Secondly
, Maxim Gorky may become a part of Gazprom's logistic chain in Yamal. It is impractical to drive an ice-class tanker to Europe, therefore, in the Murmansk region, Arctic oil is poured onto larger conventional tankers. In this case, the former Venezuelan supertanker will be used for storage and transshipment of "black gold".
We will follow with interest the further fate of this vessel.