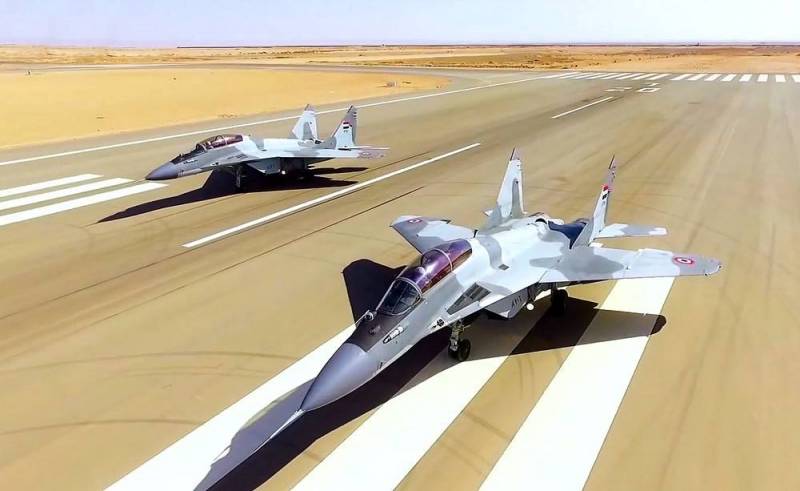 After the overthrow of the pro-Western Islamist government and the coming to power of the military, the Republic of Egypt entered into a number of major arms contracts with Russia. Cairo has not yet ordered the latest multi-functional MiG-35 fighters, as many believe, but it may soon do so, writes the American Military Watch.
In January 2017, flight tests of the MiG-35 began, and a month later, the Egyptian Ministry of Defense placed an order for the purchase of about 50 units of Russian 4 ++ generation fighters. But the MiG-35 had not yet been adopted by the Russian Aerospace Forces, not to mention export, so the Egyptians bought 46 MiG-29Ms of the previous generation, which today remain the most combat-ready aircraft in the Egyptian Air Force.
The MiG-29M is significantly cheaper than the MiG-35. They have good performance and excellent value for money. Each combat vehicle cost the Egyptians $ 43 million, including personnel training, infrastructure, maintenance, spare parts, and a wide range of advanced ammunition. Since then, Egypt has its first modern air-to-air missiles.
But the MiG-35 is a much more advanced aircraft in all respects. It has more powerful engines, a variable thrust vector, the latest electronic warfare system and radar with an active phased array.
Technological
the superiority of the MiG-35 over the MiG-29M is very significant, while the latest fighters can use the infrastructure created for the previous generation, the same applies to ground personnel and weapons. This significantly reduces costs and makes the MiG-35 more attractive.
Currently, 85% of the Egyptian Air Force is represented by outdated French Mirage 2000 and Mirage 5, Chinese J-7 and Soviet MiG-21, as well as American F-16, which have not undergone modernization and rearmament for a long time due to US sanctions. Therefore, there is a high probability that in the next 10 years Egypt will definitely acquire the MiG-35, despite the recent order of more than 20 pieces of heavy multipurpose super-maneuverable Su-35 fighters from Russia.
It remains to be seen which country will be the first buyer of the MiG-35. Egypt, India, Iran, Azerbaijan, Malaysia and a number of other states are showing interest in it. But Cairo is potentially capable of placing a large order and even starting licensed production.