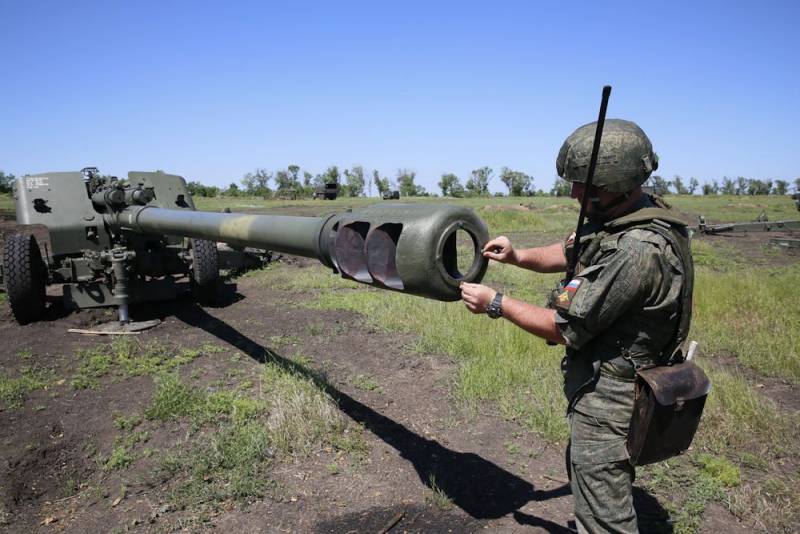 Towed 152-mm howitzers 2A65 "Msta-B" entered service with the 8th separate artillery regiment, stationed in Simferopol. They are supplied with laser-guided artillery ammunition "Krasnopol" and drones "Orlan-30", which carry out target designation. Now the defense of Crimea will become even more reliable, the newspaper writes
"News"
, referring to his sources in the Russian Ministry of Defense.
A bunch of Msta-B, Krasnopol and Orlan-30 UAVs have proven their effectiveness in Syria in destroying militants. Now the Crimean artillerymen are mastering their use.
Guided missiles "Krasnopol" have a firing range of up to 25 km, and the use of UAVs makes it possible to deliver accurate strikes not only against ground targets, but also to reflect the landing operations of the alleged enemy, causing damage to his ships. In addition, the regiment received new KamAZ-63501AT armored multi-axle tractors for towing howitzers. This made it possible to increase the mobility and efficiency of artillery in the Crimea.
Military expert Dmitry Boltenkov explained to Izvestia that earlier there was a need to have a gunner near the target, which is not always possible, and it was practically impossible to "light up" the ship when it is far from the coast in principle. Now one "Krasnopol" can do what is difficult to achieve by releasing even dozens of conventional unguided ammunition.
We remind you that the 8th separate artillery regiment (military unit 87714) was formed on November 19, 2014. It was headed by Colonel Dmitry Kozachenko, former commander of the 406th Separate Brigade Artillery Group of Coastal Defense Forces of the Ukrainian Navy. Most of the gunners also expressed a desire to serve Russia. Currently, the regiment is part of the 22nd Army Corps of the Russian Black Sea Fleet.