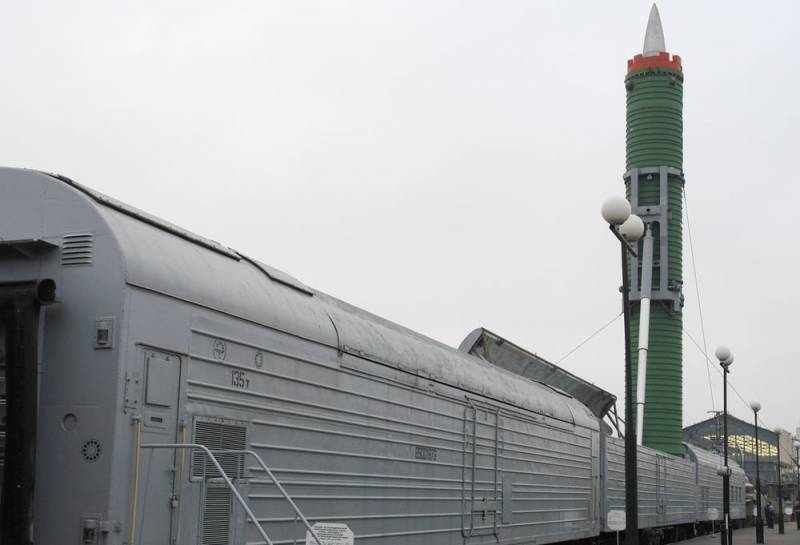 The United States has promised Russia and China to demonstrate the full power of their "nuclear modernization" by 2030. Washington has announced the development of a new Minuteman IV ICBM, Columbia-class nuclear submarines, B-21 Raider strategic bomber, Trident E-6 SLBM and other weapons. Therefore, Russia should not sit idly by, writes military expert Vladimir Tuchkov in a Russian weekly newspaper.
"Military Industrial Courier"
.
According to the author, one of the most effective responses to the initiative of the Americans, who launched a new arms race, would be the creation of the Barguzin combat railroad missile system, the development of which was discontinued in 2017. He recalled that in the USSR, and then in the Russian Federation, the BZHRK Molodets was operated. This BZHRK was removed from service not because of poor performance characteristics, but at the request of the United States, which signed START-2, i.e. he worried Washington very much.
At the same time, the expert admitted that "Molodets" had several unmasking signs that violated the secrecy of the complex. The train was practically the same as a regular freight train. It consisted of three "compartment", fourteen "refrigerator" cars (three of which had launchers) and a tank with fuels and lubricants. But each car with PU weighed 200 tons, so the train was dragged by three diesel locomotives. Each RT-23UTTKh (15Zh61) ICBM weighed 105 tons (it contained 10 warheads with a capacity of 550 kT each) without a transport and launch container, which was an outrageous load for standard wheelsets. Therefore, the designers retrofitted the chassis and distributed the load between adjacent cars.
The new "Barguzin" was devoid of these shortcomings, and even specialists would now find it difficult to distinguish the train from an ordinary technical train. There were ordinary-looking wagons, the loads of which did not exceed 65 tons. The train was pulled by one diesel locomotive. The BZHRK was to be armed with three new ICBMs RS-24 "Yars", which were half the size of the previous ones. Each such ICBM was supposed to contain six maneuvering warheads with a capacity of 150 kT each.
The author is confident that a nuclear Barguzin with 18 warheads would be Moscow's best response to Washington's new weapons.