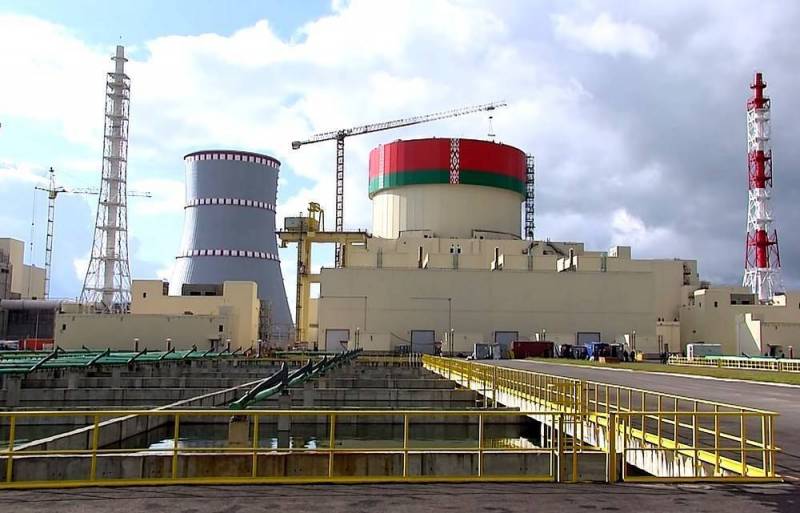 The idea of ​​building a nuclear power plant in Belarus was announced back in 2008. In August this year, the physical start-up of the first power unit of the nuclear power plant in Ostrovets took place. This means that commercial operation of the facility will begin in the first quarter of 2021. From this moment Belarus will turn from an importer of electricity into its exporter. Since no one willing to buy Belarusian energy has yet been found, it is obvious that Moscow pursues other goals during the construction of the Belarusian nuclear power plant, writes the Polish edition of Biznes Alert, calling the energy project a "nuclear weapon" in Belarus.
The first possible target of Russia's "nuclear weapons" is protection. Today Rosatom is building nuclear power plants in Belarus, Finland and Hungary (in fact, in Turkey, India and Egypt - editor's note). The Russian authorities are also counting on the construction of new power units in the Czech Republic. The geography of nuclear projects resembles the borders of the former Eastern Bloc during the Cold War. Apparently, the Russian Federation uses nuclear power plants to increase
political
dependence of the Central European countries and the creation of a conditional line of defense against NATO. Nuclear power plants are an important infrastructure facility and a source of potential radioactive contamination, and large-scale hostilities near such plants are fraught with disaster.
The second possible goal of the Kremlin is an invasion of the countries of the North Atlantic Alliance. Placing nuclear power plants in Europe allows Russia to pave the way in advance in the event of a possible collision with NATO forces. Therefore, the construction of the Belarusian NPP is a strategic investment of the Russian Federation. A reliable supply of Kaliningrad and Belarus, as well as the Baltic states, may be required as the new format of the Soviet Union is restored. Additional energy will also be required to accommodate additional military forces of the Russian Federation.
The third goal that the Russian authorities may pursue during the construction of the BelNPP and other similar stations is geopolitical. Modern Russia is pursuing a strategic course to restore Moscow's global influence in accordance with Soviet plans. This is why the Russian Federation is actively working on the energy front, building nuclear power plants, as well as new pipelines and other energy facilities in neighboring countries.