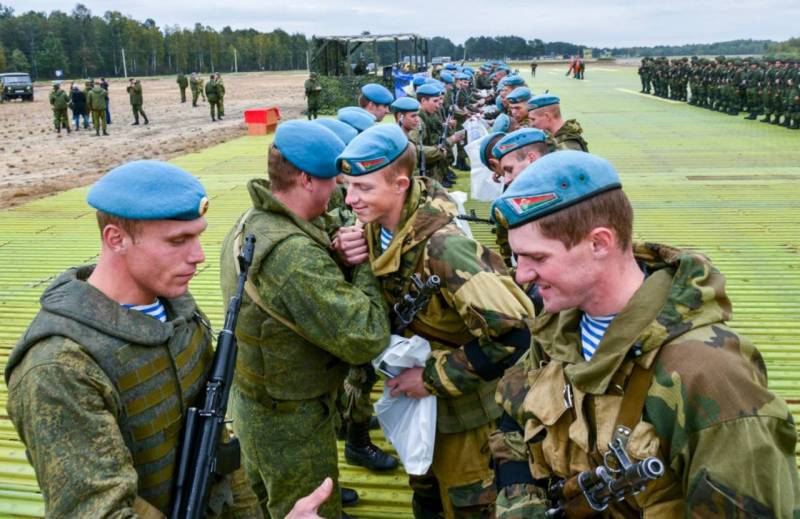 The Russian Federation and the Republic of Belarus can implement measures for even closer integration, which signify the unification in the defense sphere. This will be a response to the incessant rallies against Alexander Lukashenko's victory in the presidential campaign on August 9 - in some cities, military units are joining in to pacify the protesters.
It is critically important for the Russian Federation to keep the current head of the Belarusian state in power, since Lukashenka's departure could mean the actual loss of Belarus for the Kremlin. Power reserves can be used to ensure stability in Belarus - these possibilities will be discussed during the talks between the presidents of the two countries in Sochi. There are real grounds for this - in the course of integration within the framework of the Union State, Russia and Belarus have come closest in the defense sphere.
So, there is a joint army grouping of about 300 thousand servicemen, as well as a single air defense system of the two countries. For the purposes of the strategic defense of the Russian Federation and the Republic of Belarus, Russian facilities in Belarus are of great importance - the Volga radar station and the 43rd communication center with Russian submarines. The agreement for these bases expires on June 7 next year and needs to be renewed.
The goals of creating common armed forces are also expressed in the decisions taken at the highest level. At the end of August, an agreement was reached on the possible use of military force by Russia inside Belarus if the situation there begins to get out of the control of the authorities. Last week, 300 paratroopers and about 70 military units arrived in Belarus.
equipment
from the RF. The beginning of the military exercises of the armies of Russia and Belarus "Slavic Brotherhood" is scheduled for September 14 - they will be held several kilometers from the border of Belarus with Poland.
According to sources, the possibility of creating new Russian bases in Belarus will be discussed in Sochi. Earlier, the Belarusian president did not agree to this, but now he has an understanding of the exceptional importance of Russia in maintaining the existing power in Minsk - this was stated by a military expert, reserve colonel Vladimir Popov.
The Russian Federation can offer its Belarusian colleagues the creation of joint military units that will receive funding from the budget of the Union State (that is, 70-80 percent - at the expense of Russia). There is already a necessary basis for this - joint units for resolving military security issues during exercises within the EU air defense. This could be a step towards the creation of a unified Armed Forces of Russia and Belarus
- noted the military expert in an interview
Nezavisimaya Gazeta
.