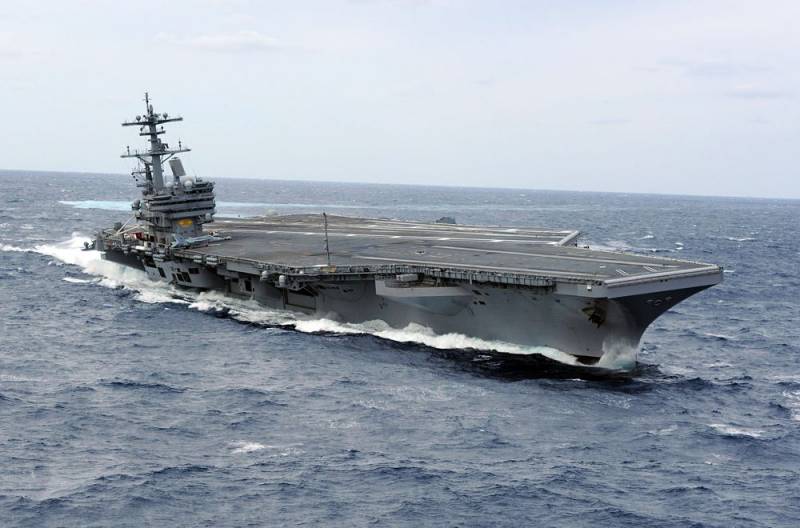 Russian aeroballistic missiles 9-C-7760 of the world's first hypersonic aviation missile system 9-A-7660 "Dagger" (X-47M2 "Dagger") have been in service with the Russian Aerospace Forces since March 2018. Their first carriers were the MiG-31K long-range supersonic high-altitude all-weather fighter-interceptors (one missile each), and later the Tu-22M3M long-range supersonic missile-carrying bombers with a variable sweep wing (up to four missiles).
It should be noted that, according to sources in PJSC UAC, which unites the largest aircraft building companies in Russia, these missiles are a variant of the air-launched Iskander complex. At the same time, they can hit not only stationary objects on land, but also moving targets in the form of surface ships, including aircraft carriers.
Considering the incessant aggressive rhetoric of Washington against Moscow, the experts of the Internet publication
"Military Review"
decided to find out what would happen if at least one such missile hit an American aircraft carrier. The USS George HWBush (CVN-77) nuclear-powered aircraft carrier of the US Navy, which entered service in 2009, was taken as a conditional target.
This is a very large ship with a displacement of 97 thousand tons, up to 333 meters long and up to 77 meters wide. It carries 3200 crew members and 2480 aircraft wing personnel. The air group consists of about 90 aircraft and helicopters. The consequences of modeling the hit of the "Dagger" in the aircraft carrier were disastrous for the latter.
The experts immediately decided that there was no point in striking the ship's superstructure, because the main function of an aircraft carrier was to be a floating airfield. Therefore, the wide deck of the aircraft carrier was taken as the point of contact of the rocket, under which there are 2 A4W nuclear reactors, with a capacity of 550 MW each.
Experts have calculated that the 9-C-7760 missile, with a warhead of 500 kg and flying at a speed of about Mach 12, will not leave the aircraft carrier any chance. The air defense / missile defense system of the aircraft carrier and the accompanying AUG is simply unable to react to this missile in time, so it is guaranteed to hit the aircraft carrier.
Another question is how successful the hit itself will be. If none of the reactors is damaged, then the aircraft carrier can remain buoyant, but will cease to perform its main function, and for a very long time, since the destruction will be colossal. If at least one of the reactors is damaged, this will lead to the inevitable sinking of the ship, since no one will drag the aircraft carrier to the port with the molten reactor zone.