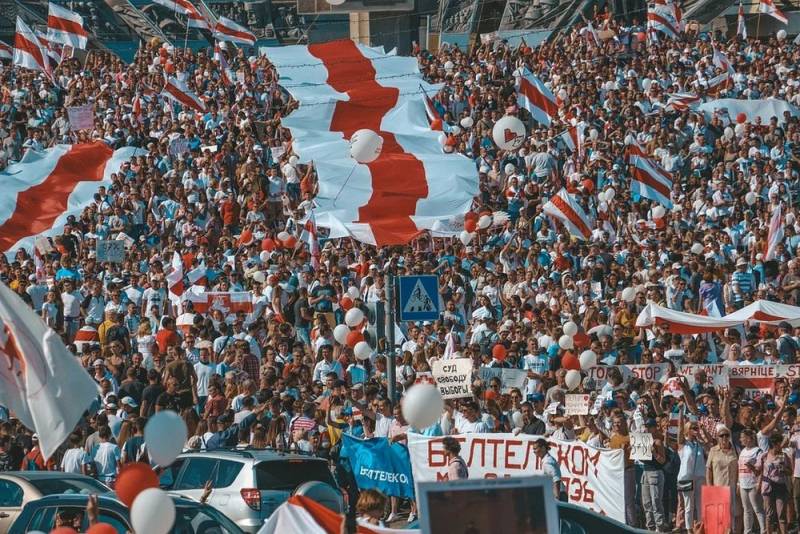 Opposition rallies in Belarus have not stopped for over a month. During this time, the West tested a new
technology
"Color revolutions". The organizers of the Belarusian protest demonstrated a new approach to the coordination of "peaceful demonstrators", which has shown its potential. Russian journalist Alexander Kots stated this on the air of the PolitWera YouTube channel.
The Belarusian protest differs from other revolutions in technology. Here, a completely new word is used in the coordination of the protest masses - through the virtual leader. There is no point of attraction, there is no Maidan as such (stationary site - ed.). There is no force that would hold and attract people. On the Maidan (in Kiev - ed.) It was a scene that was broadcasting something 24 hours a day - some lectures, concerts, announcements, funerals. The stage constantly keeps people in suspense, something is constantly happening, without this it is impossible to keep the crowd
- explained Kots.
The journalist drew attention to the fact that in Minsk the role of such a "scene" is performed by a group of Telegram channels broadcasting around the clock from Poland. At the same time, Kots doubted that, for example, the Nekhta channel has more than 2 million real subscribers. He suggested that a significant part of this number are "bots". However, he agrees that it is "a very impressive tool" given the network of such channels.
Kotz pointed out that these are the channels coordinating the protest. Through the channels, activists receive a variety of information. They are given orders where to go and what to do, they are told about current and planned events. They keep the protesters in constant tension and create the desired psychological effect.
He noted that it is impossible to arrest the network of such channels, this is not a person who can be handcuffed. It is also difficult to paralyze their work by turning off the Internet, because you need to deprive the entire country of access to the Internet.
They turned off the Internet for 3-4 days in Belarus, it was very hard for us. But "NEXTA" published 10 posts per minute with videos
He remembered.
Kots recalled that there are a lot of programs that allow you to bypass blockages, and there is also broadband satellite Internet. He suggested that special equipment was installed in the embassies of Western countries, which gave access to the Internet, despite the opposition of the authorities.
I'm sure someone helped them. This is a new word in technology
- he added.
At the same time, the protesters do not believe that they are being manipulated.