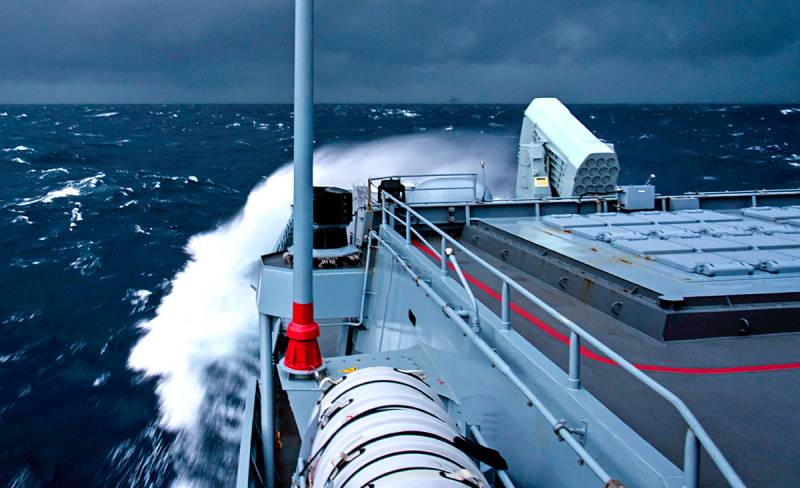 The Royal Navy of Great Britain will lead the mission of the four countries to block Russian domination in the Arctic, writes the British newspaper The Telegraph.
For the first time in 20 years, the US, Danish and Norwegian navies joined the British frigate HMS Sutherland (Type 23) to demonstrate freedom of navigation in the Arctic Circle. The multinational task force of warships and aircraft was supposed to show Moscow that it is not the master of the Arctic.
The British frigate, supported by the Royal Navy logistics support vessel Tidespring, commanded the USS Ross (DDG-71) destroyer USS Ross (DDG-XNUMX) of the US Navy (Arley Burke class) and the Norwegian frigate Thor Heyerdahl (Fridtjof Nansen class) in the Barents Sea. ).
The operation involves more than 1200 military personnel, as well as American P-8 Poseidon anti-submarine aircraft, Danish Air Force Bombardier Challenger CL-604 patrol aircraft and British Air Force Typhoon fighters, supported by Voyager A330 MRTT / KC-30A air tankers, which refuel at the sky.
British Defense Secretary Ben Wallace said that London intends to "renew its active presence" in the Barents Sea. In his opinion, climate change will lead to the melting of ice in the Arctic Ocean and open the shortest route for commercial ships from China to Europe. At the same time, Russia can challenge the norms of international law, feeling itself "strategically vulnerable", therefore this region is of great interest to NATO.
The Russian Navy seeks to dominate the region and control the passage to the Atlantic Ocean. Access to the Atlantic is vital for Moscow. Therefore, NATO's main task is to keep the Russians much to the north of the conditional Greenland-Iceland-Great Britain line. During the current operation and future exercises, NATO ships will operate less than 100 nautical miles off the Russian coast.