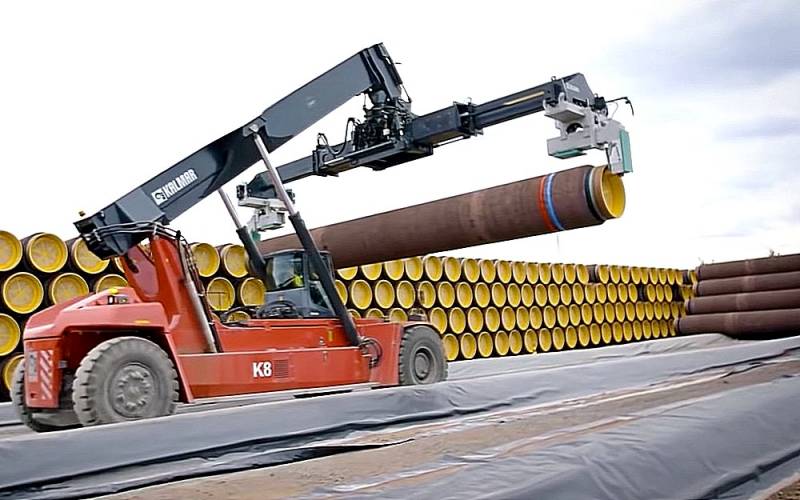 Against the background of the permanent problems of Nord Stream 2, the proposal to replace Russian gas for Europe with Polish gas was rather unusual. Warsaw offers Berlin to use its Baltic Pipe gas pipeline under construction for this, which is expected to be commissioned in 2022. What is really behind this idea?
Piotr Müller, a spokesman for the Polish government, said:
If such needs are announced from the German side, then Poland is open to use the infrastructure that it itself is building for its energy security.
Warsaw's official position is that SP-2 threatens European energy security and solidarity. Well, such a point of view has a right to exist. But there are others. For example, do not forget that Poland still buys Russian gas through the Yamal-Europe pipeline system. Warsaw intends to completely abandon purchases from Gazprom only by 2022. It should be admitted that the Poles have done a lot to diversify the supply of "blue fuel".
At first
, in 2015, an LNG terminal with a capacity of 5 billion cubic meters of gas was built in the city of Swinoujscie. There are plans to expand it to 7,5 billion cubic meters. In addition, a second floating LNG terminal will be commissioned in Gdansk. Warsaw has signed long-term contracts for the supply of liquefied natural gas with companies from the United States and Great Britain. The ambitious plans of the Polish government are described by its authorized representative for energy infrastructure, Piotr Naimsky:
We build interconnectors with neighbors. We are going to give our neighbors access to gas through the Polish network.
Secondly
, in two years Poland intends to replace 10 billion cubic meters of Russian gas with Norwegian. For this, the construction of the Baltic Pipe has begun, which is to connect the republic with Scandinavia.
The idea of ​​diversifying supplies is understandable in itself, but the plans to replace Nord Stream-2 with this gas pipeline raise questions. The capacity of two lines of the Russian-German pipeline exceeds the Polish one by 5,5 times. "Baltic Pipe" cannot seriously compare in terms of its throughput capacity and with the half-capacity project of "Gazprom". It should also be borne in mind that exactly the same gas will go through the Baltic Pipe that is now going to Germany and other Western European countries, and this does not increase its reserves in Norwegian fields.
The picture changes somewhat if viewed through the prism of the toughest scenario of US sanctions pressure against Gazprom. For example, during the investigation of the poisoning of opposition leader Alexei Navalny in Russia, the construction of Nord Stream 2 will be frozen. For example, taking into account all the bureaucratic and judicial red tape, until 2022. This means that European customers will not receive the expected volumes of Russian gas. By that time, the Baltic Pipe will be commissioned, as well as a number of new LNG terminals in Poland and neighboring EU countries. At the end of 2024, the transit agreement with Ukraine will expire, and Kiev, under pressure from Washington, may refuse to conclude a new agreement.
This means that Gazprom automatically loses most of its share in the European market. The prices for "blue fuel" are soaring sharply, and LNG is finally starting to "rule". In this context, Poland, with its two LNG terminals and the Baltic Pipe, which will take 10 billion cubic meters of Norwegian gas from Germany, is turning into a major regional hub and is starting to play a completely different role in Europe.
the economy
и
policy
... This is where interconnectors with neighbors come in handy, which will make it possible to resell imported fuel with a decent margin.