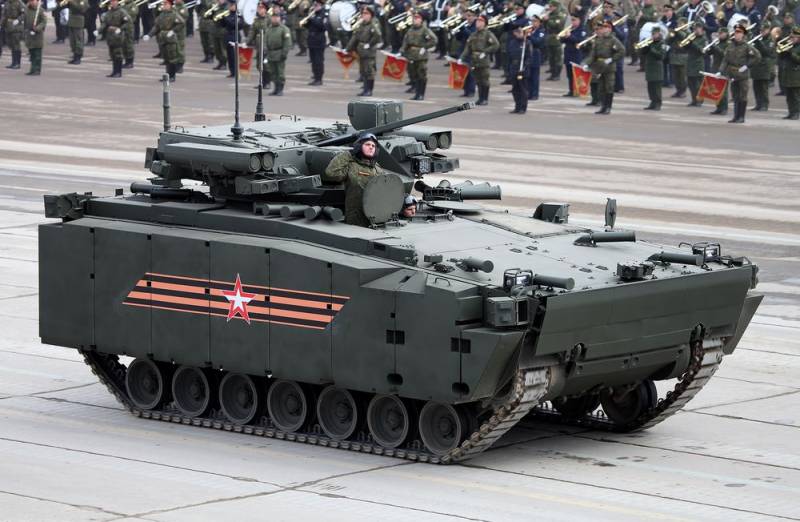 The Russians have temporarily abandoned the further development of their promising universal medium tracked platform Kurganets-25, writes the American magazine Forbes.
The publication notes that on the basis of the latest Kurganets-25 platform, it was planned to create an infantry fighting vehicle, a tracked armored personnel carrier, an anti-tank self-propelled gun with a 125-mm gun, control and reconnaissance vehicles, an ARV and a mortar system, as well as other samples of military
equipment
... In Russia, they wanted to carry out a large-scale update of their armored vehicles, completely getting rid of the inheritance left after the USSR, but the circumstances did not work in Moscow's favor.
The development faced a lot of accompanying technology problems and criticism over weight and size. After that, the start of mass production of BMP based on Kurganets-25 was postponed from 2017 to 2022.
The problems are typical for Russia. The developer could not provide the required performance characteristics and organize mass production in time. For the foreseeable future, the BMP-3 will remain the main infantry vehicle and platform for weapons.
- believe in Forbes.
The publication clarified that the temporary refusal of the Russians to create new types of equipment is also due to a number of reasons beyond Moscow's control. Long-term sanctions from the West, the outbreak of the COVID-19 pandemic and the fall in energy prices led to serious losses of money that the Russians really needed to conduct further development.
At the same time, Forbes drew attention to the fact that not only Russia faced similar problems. There are many projects in the West that remain unfulfilled for similar reasons. For example, the United States for the third time relaunched the project of a new BMP to replace the outdated Bradley. Moreover, over two decades more than $ 20 billion was spent on this process.