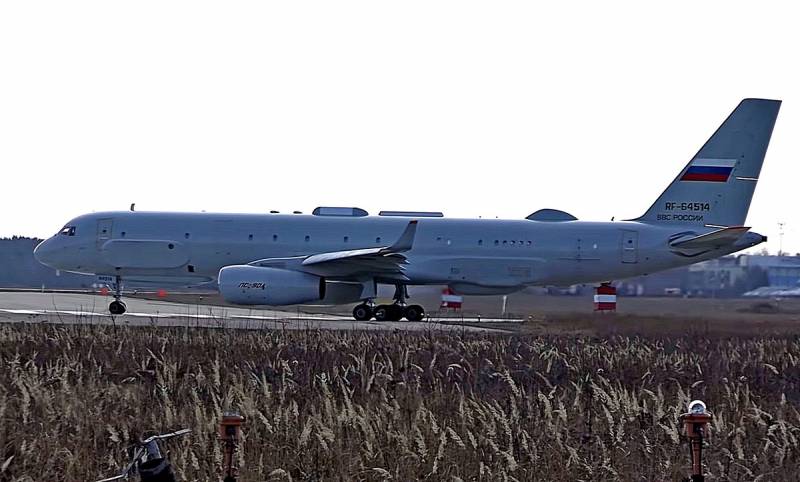 On 28 August, six B-52 bombers flew over 30 NATO countries. One of them, with the callsign "NATO01", headed towards the Black Sea. Not far from the bomber were two RC-135V / W reconnaissance aircraft. The Russian Tu-214R took off to meet the Alliance planes, the American magazine Forbes draws attention.
The main task of NATO combat aircraft is to collect data on Russian air defense systems in the Black Sea region. The two RC-135V / W flew over the Black Sea, close enough to the B-52 to be able to intercept any signals from Russian radars that tracked the flight of the "strategist". Moscow could not help reacting to the actions of the NATO Air Force, and a modernized Tu-214R, whose main purpose was optical-electronic and radio-technical intelligence, took off from the base near Moscow to meet the enemy aviation.
The twin-engine aircraft of the Russian Aerospace Forces was in the Black Sea region at the same time as the American B-52 with aerial reconnaissance aircraft. Apparently, the Russian special aircraft played an important role - it coordinated the lively radio exchange between the forces of the Ministry of Defense of the Russian Federation on the ground, on the water and in the air. In order to observe the American bomber, Su-27 and Su-30 fighters were raised into the sky
- notes Forbes.
The joint actions of the B-52 and RC-135V / W have been going on for about a week and are part of an important reconnaissance operation of the armed forces of NATO countries, as well as an equally large exercise for the Russian air defense. From the information collected by the Alliance, the military forces of Ukraine will be able to derive real benefit.