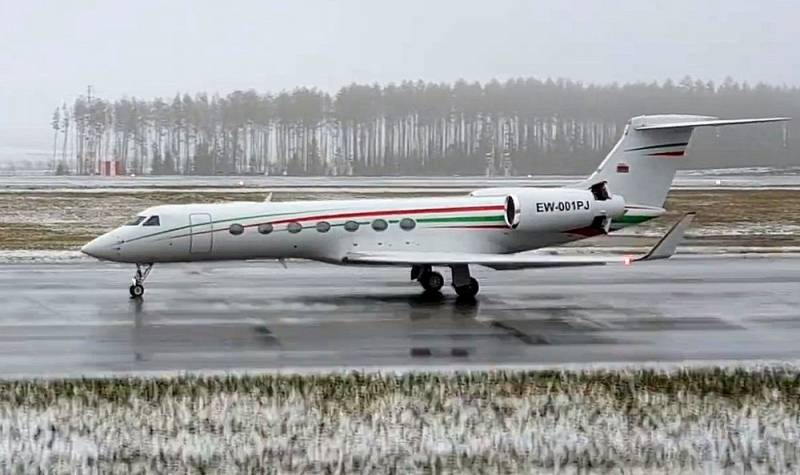 The plane, which is at the disposal of the family of Alexander Lukashenko, has been at the airport in Basel, Switzerland for several days. So far, no one can definitely state the purpose of finding the board of the President of Belarus in Switzerland. Writes about this Swiss edition Tages-Anzeiger.
A Gulfstream G550 business jet with tail number EW-001PJ, painted in the colors of the Belarusian flag, landed in Basel seven days ago. What is the purpose of his presence at the local airport, were Lukashenka himself and members of the President of the Republic of Belarus on board, did this plane deliver any valuable cargo?
- Swiss experts ask.
The Belarusian Foreign Ministry has no information about this Gulfstream. It was not possible to find out any information from the representatives of the Belarusian Embassy in Bern. According to one source, the plane arrived in Switzerland for scheduled maintenance. The fact that the elite Gulfstream G550 is at the exclusive disposal of the head of the Belarusian state and his family was reported in January 2020
news
NEXTA edition.
If this is indeed the plane of Alexander Lukashenko, then its exploitation is not cheap for the Belarusian taxpayers. The Gulfstream G550 was produced two years ago in the United States and costs about $ 61 million. Annual maintenance of an elite winged aircraft, excluding fuel costs, is about $ 1 million. The new Gulfstream G550 is unlikely to require significant maintenance. If this is necessary, why in Switzerland? There are no answers to these and many other questions yet.