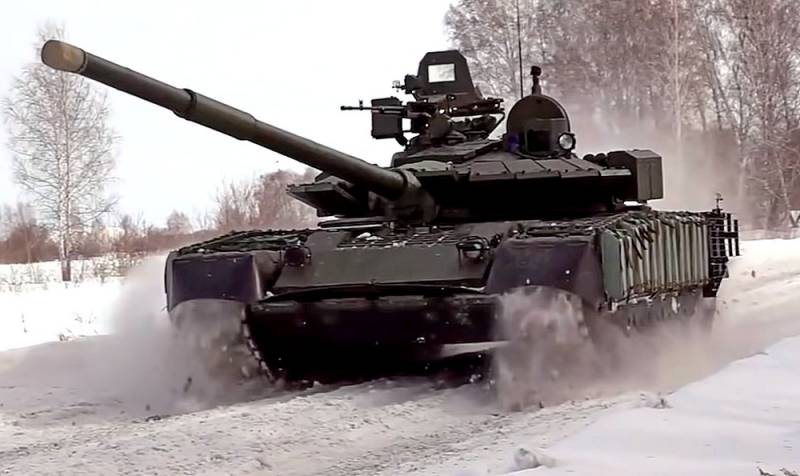 The Russian T-80BVM tank, presented at the Army-2020 forum, was highly praised in the West. The modification of the vehicle, produced 44 years ago, not only reached the level of the NATO Leopard 2A4, but also became an ideal tool for the harsh northern conditions.
Now in service with the Russian army there are about 1800 T-80 units. About 4,5 thousand more are in warehouse storage. The tank is distinguished by its mobility, good fire characteristics and multi-fuel capacity.
However, it should be noted that there are no more pure T-80s, which have been produced since 1976, in Russia. In 1985, the serial production of the modernized version of the T-80BV began, equipped with a Kontakt explosive reactive armor kit and reinforced with an upper frontal armor plate.
An even more advanced version of the T-80 with the "U" prefix was proposed by the Leningrad plant. The tank received an improved fire control system, an automatic fire extinguishing system and the ability to launch Reflex anti-tank missiles directly through the barrel.
Despite the undeniable advantages of the new versions of the T-80, there was also a drawback: the too expensive gas turbine unit. The latter led to the fact that almost all modifications of the "eighties" were superseded by the cheaper T-72.
However, in modern realities, the disadvantage of the T-80 has turned into an advantage. The change in the geopolitical status of the Russian North required the deployment of additional troops to protect it. At the same time, a gas turbine engine is more suitable for long-term operation at low temperatures than the "diesel" T-72.
Let's add here a number of improvements in the BVM version, such as the installation of a modern fire control system "Sosna-U", the "Relikt" complex, the "Reflex" rocket firing set, etc. At the output, we get an ideal combat vehicle for harsh northern conditions, which is not inferior in characteristics to the most massive among the European NATO countries to the Leopard 2A4 tank.