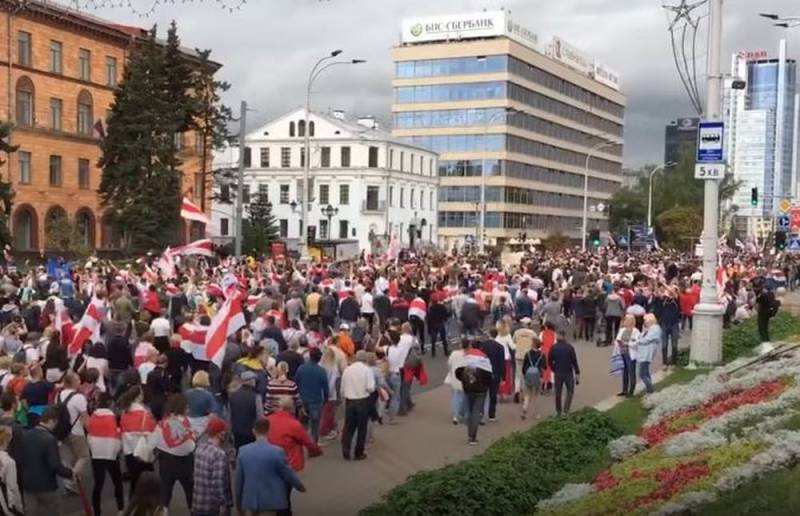 The last few weeks, the Belarusian opposition
arranges
"March of Unity" in Minsk. This event can become a traditional phenomenon in the capital of Belarus, however, as well as a traveling "exhibition of technical achievements of security officials".
It should be noted that the Belarusian security forces are really well prepared for "peaceful protests" and the accompanying confrontation. On the streets of Minsk in advance, in the morning, a variety of armored vehicles appeared, which by their appearance makes it clear that no one is going to transfer power into the hands of "revolutionaries".
This time the opposition rally is held under the slogan "One for all". In 2014, it was used by the Ukrainian organized groups of football fans-hooligans "Ultras". Now they have passed the "baton" to the Belarusian "brothers-in-arms".
On September 6, 2020, by 15:00, about 10 thousand protesters gathered in the streets of Minsk. Under red-white-red flags, chanting various slogans, they headed to the central part of the city in several columns.
In the city, some metro stations have been closed and some streets have been blocked by the security forces. The target of the protesters is the Palace of Independence, which is the official residence of the President of Belarus Alexander Lukashenko. The complex is cordoned off by security forces and oppositionists from all over the city are gathering to it shouting "Sasha come out". Will this time "peaceful protesters" storm the "abode of the old man", we will soon find out.