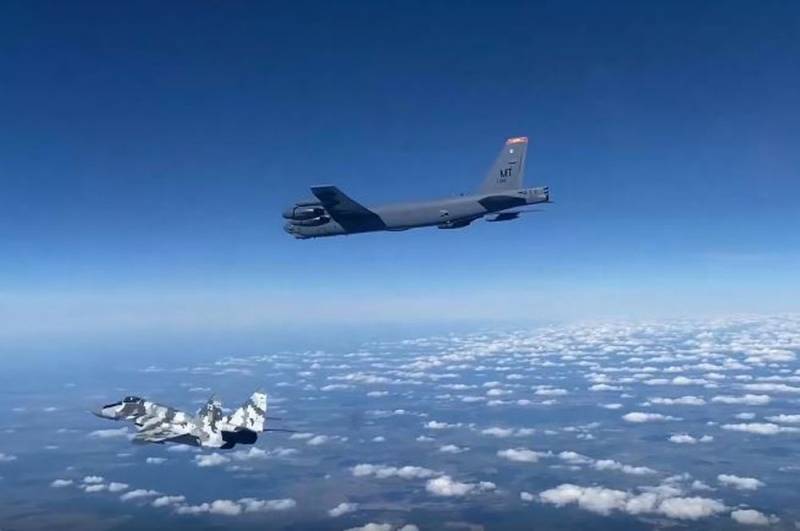 On September 4, 2020, an unprecedented incident took place in Ukraine - a group of B-52H Stratofortress strategic bombers of the US Air Force, accompanied by the Ukrainian Air Force, conducted an imitation of a nuclear strike on Crimea, the Kiev Internet publication Strana.ua writes.
The publication notes with concern that the Americans spent
demonstrative
the action right at the border of the Russian Federation, absolutely not fearing the Russians. At the same time, the Ukrainian Air Force helped the Americans work out approaches for strikes. B-52 described an ellipse between Genichesk and Melitopol.
The Ukrainian military described the first appearance of the B-52 in the airspace of Ukraine in enthusiastic tones. The Ministry of Defense of Ukraine published a video and explained that the Ukrainian and American military were conducting combat coordination, while emphasizing several times that there were not two, but three B-52s.
Not two, as the media say, but three (!) Strategic bombers of the United States Air Force B-52H patrolled the coast of the Azov Sea in the airspace of Ukraine
- indicated in the Ukrainian military department.
Ukrainian journalists noticed that the Russians raised 8 of their fighters into the sky, which flew parallel to the "stratospheric fortresses", without crossing the northern border of Crimea, keeping at a distance of 25 km from the dividing line.
Ukrainian journalists called the American mission a scandalous precedent that has nothing to do with relatively safe intelligence operations. They were outraged that Kiev deliberately helped Washington to deliver nuclear strikes on Crimea, which according to the Ukrainian Constitution is "the territory of Ukraine."
Again, this was done from the territory of Ukraine
- emphasized in the publication.
Journalists are confident that in the event of a real conflict, the B-52 will become a target for the Russian military, with all the attendant consequences. Therefore, the enthusiasm of the Ukrainian military defies explanation, because it does not bode well for Ukraine.
Moreover, if Kiev continues to act in the same spirit, Moscow could radically change its attitude towards its neighbor. It is one thing when you are perceived as an openly weak adversary who does not pose a great threat, and another thing when an attack using nuclear weapons can be launched from your territory.
After that, no Western sanctions will deter the Russians, since their instinct for self-preservation will work. Moreover, the Donbass has already hinted at the consequences, having dealt a blow to the Ukrainian positions.