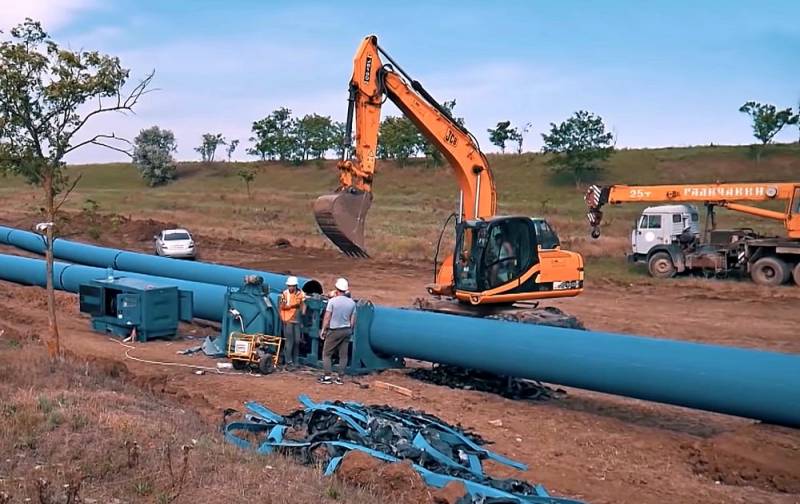 The Russian authorities have found a way to partially solve the water problem in Crimea. A large and representative delegation, consisting of officials of the federal, regional and municipal levels, as well as representatives of contractor firms, visited various projects under construction on the peninsula. This is reported by the Ministry of Internal
policy
, information and communication of the Republic of Kazakhstan.
It should be noted that in August 2020, the forces of the Russian Ministry of Defense were
built
temporary pipeline system and filling of the Simferopol reservoir started. 15 water lines connected the Taigan reservoir of the Belogorsk region with the Simferopol one. Now the Crimean authorities want to build a permanent water pipeline, which will supply water from the Belogorsk region to the capital of the peninsula, the city of Simferopol.
Deputy Minister of Economic Development of Russia Sergei Nazarov confirmed that the issue of building a stationary water conduit, which will operate on a permanent basis, is being considered. According to him, earlier, the Taigan reservoir provided water to the eastern part of the Crimea, but after the commissioning of a water conduit from the Nizhinsky, Prostornensky and Novogrigorievsky water intakes, the construction of which is already being completed, the water from the Taigan reservoir can be redirected to Simferopol. In total, the Nezhinsky, Prostornensky and Novogrigorievsky water intakes will provide 195 thousand cubic meters of water per day for residents of Kerch, Feodosia and part of the Leninsky district - this is one of the largest infrastructure projects on the peninsula.
In turn, Deputy Prime Minister of Crimea Yevgeny Kabanov clarified that currently seven main water pipelines are being built from the pumping station in the village of Oktyabrskoye to Kerch and Feodosia. The pipeline system will supply water to consumers bypassing the North Crimean Canal to avoid losses.
In addition, the issue of large-scale reconstruction of the Mizhgirya reservoir was discussed. Until 2014, it was the largest loading basin, providing Simferopol and surrounding areas with water. But in 2015, it was almost completely empty.