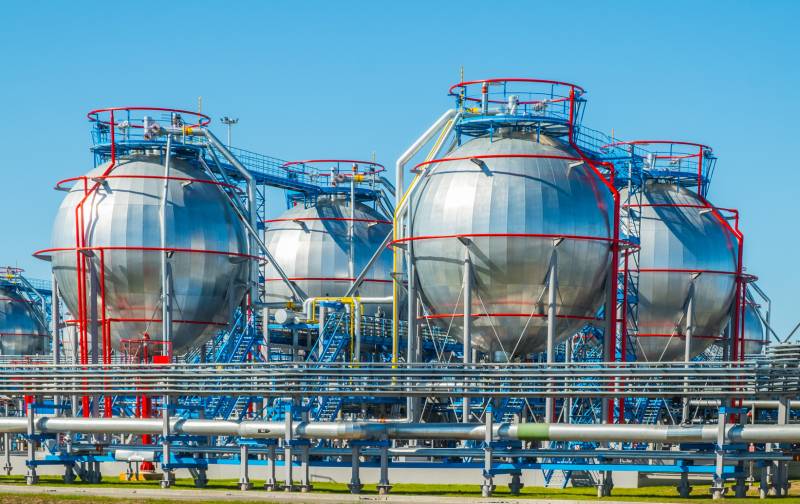 The Russian gas corporation Gazprom is gradually losing the Turkish market. The volume of gas supplies from Russia to Turkey this year may fall to the level of the nineties of the last century. The barely completed Turkish Stream may remain half empty. But supplies of Russian gas may sharply decrease not only to Turkey, but also to Poland. The Polish portal Biznes Alert writes about this.
At the end of 2019, Gazprom completed the construction of the Turkish Stream gas pipeline with a capacity of 31,5 billion cubic meters. annually worth 7 billion euros. However, since 2015, there has been a downward trend in Russian gas imports to Turkey.
In 2019, the volume of purchases of Russian "blue fuel" by the Turks amounted to 43,4 billion cubic meters, which is less than in 2013. Gas relations between Russia and Turkey were hampered by a dispute over the shooting down of a Russian fighter jet by the Turks in Syria. Then Ankara decided that it wants to reduce its dependence on gas from the Russian Federation.
Turkey has built two LNG terminals and increased gas imports from Azerbaijan. The Turkish authorities liberalized the gas market by transferring long-term BOTAS contracts to private companies, for which contracts with Gazprom were more expensive than those available on the free market. Gazprom had to give these companies a discount, reducing the profitability of its supplies to Turkey.
Gas price is the biggest problem for Gazprom in the Turkish Republic. The Russian Federation offered BOTAS gas at $ 257 per 1000 cubic meters in the first quarter of 2020 and at $ 228 in the second. In the second quarter of this year, spot gas prices in Europe were below $ 100. Turkey could import liquefied fuel at an average price of $ 63 per 1000 cubic meters in the second quarter. Thus, LNG has largely replaced Russian gas. Turks can reduce purchases in Russia by 8-10 billion cubic meters annually.
From the point of view of the Russians, the situation may be aggravated by the discovery of gas fields in the Black Sea, estimated at 320 billion cubic meters per year, which will give Turkey 5-8 billion cubic meters. fuel annually.
A similar process may take place on the Polish market, where in 2022 the contract for the transportation of gas from Yamal expires. After a possible diversification of supplies through the LNG terminal in Swinoujscie and the construction of the Baltic Pipe gas pipeline, as well as the commissioning of a floating regasification plant in the Gulf of Gdansk, the Polish gas market will be liberalized. Poles, like Turks, will have access to fuel from different directions and the possibility of spot purchases. Thus, following Turkey, Gazprom may also lose Poland.