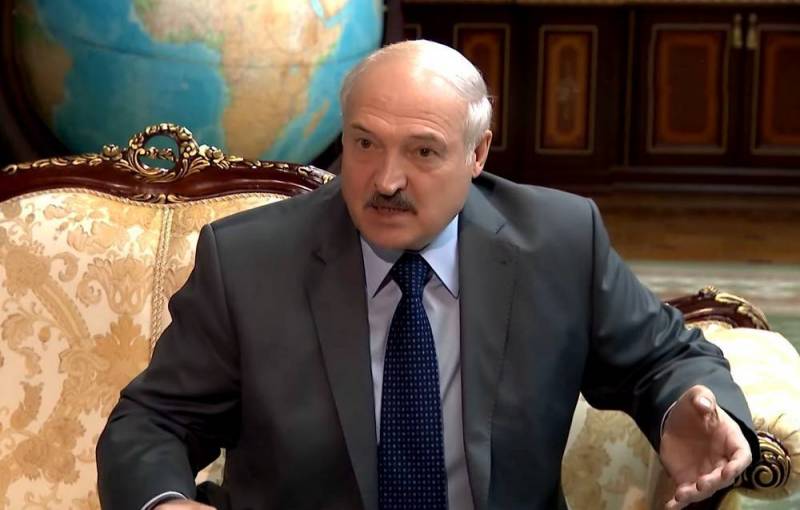 What cannot but cause sincere admiration in the leader of Belarus is his complete rejection of any half measures, semitones and other similar things. If the "dad" has made any decision for himself, then hold on to it ... Until recently, Alexander Grigorievich, who did almost everything possible to curtail relations with Russia, fully felt the consequences of such a short-sighted
policy
and clearly drew deep and comprehensive conclusions.
Today he is not only standing shoulder to shoulder with our country in its extremely aggravated confrontation with the West, but, one might say, is eager to fight in the forefront of this battle. And you know what? Very good at it!
Lukashenko vs. Merkel
As you know, remembering the old runs the risk of serious vision problems. But on the other hand, you can't throw a word out of a song ... And these words - ill-considered, unfounded, and besides, unfair and insulting to Russia from the lips of Lukashenka, have lately sounded, alas, more than enough. Now one gets the impression that the Belarusian president, perfectly realizing how shortsighted he acted, sacrificing a truly century-old brotherhood to the current political situation, is seeking to prove his adherence to the union with our country in the most radical ways. No sooner had the absurd accusation against Russia of yet another "poisoning" sounded from Berlin, immediately picked up by the entire Western flock and already used as a pretext for new attacks on our country, when the "daddy" made a retaliatory move. And what a spectacular one! It turns out that not only Western politicians are able to make shocking and sensational statements that instantly "turn upside down" international relations.
During a meeting in Minsk with Russian Prime Minister Mikhail Mishustin, Alexander Grigorievich broadcast something much more stunning than the Russophobic tales about Novichko repeated for the hundred and first time. According to the Belarusian leader, he has at his disposal records of negotiations between some high-ranking subscribers from Germany and Poland, irrefutably proving that the whole story with "Navalny's poisoning" is not just a fake and a "linden" of pure water, but a provocation of Western special services aimed at destabilizing situation in Russia. "To slip a dirty trick is their style, this is their face!" - Bravo, Alexander Grigorievich. Who knows, if not you ...
Where does the information of such a high level of confidentiality come from? Lukashenka, completely without daring or reflecting, said that the information was received from the "electronic intelligence of the Belarusian army", which "is waging a confrontation with NATO." Why are they concentrating on the western borders? According to the Belarusian leader, at present the brave "fighters of the invisible front" are already preparing the entire "package" of materials ("we will transmit the voice, and the text - all that is needed!"), Which will soon fall on the tables of the director of the FSB of Russia Alexander Bortnikov and the head of the Russian Foreign Intelligence Service Sergei Naryshkin. For the general public, Alexander Grigorievich has so far released two quotes from the intercepted conversation: it openly said that Russia needs to be "influenced" during the local elections there in the regions, and that the special operation with Navalny was started in order to "repulse Putin wants to get involved in Belarusian affairs ".
In conclusion, Lukashenka did not fail to mention that, judging by what is happening, the West does not intend to give "a quiet life" to either Moscow or Minsk, but he will not allow himself to be "tilted". All the more so - to some Germans with Poles. What follows from this situation? First of all, if the recordings of the interception are made public (and personally I have no doubts about their existence or their authenticity), an international scandal threatens the West of an unprecedented scale. An unprecedented, one might say enchanting scandal. In addition, with his demarche Lukashenka finally "burned bridges", demonstratively giving up even the most illusory chances of reconciliation with the West and confirming his readiness to be with Russia to the end.
Together we are strong!
In Germany, of course, everything that has been said is denied with ardor, indignation and pathos by a lady with low social responsibility, proving her own girlish innocence. The German government made an extremely offended mine and said that his statements "are naturally false." And what do you want to say to these foolish poor fellows? There are so many lies, accusations, covering up their own, as Aleksandr Grigorievich correctly said, "dirty tricks" with the notorious "high-likes", and it's so ridiculous to get caught! If it turns out that the dispassionate special equipment really recorded Frau Merkel's voice (and this is the option today called as the most probable), the government crisis and the far from honorable resignation of the old woman may not be enough. Moreover, such a turn of events automatically casts doubt on all the fabrications of the West - from the crash of the Malaysian Boeing to the story of the Skripals. Who has lied once, who will believe you ?! You can sit down in a very deep puddle ...
However, the matter is not only in one particular case. In front of the astonished, extremely annoyed and discouraged West, Moscow and Minsk began at an accelerated pace to carry out that very "deep integration", the failure of which, in fact, was one of the main goals of the "non-Maidan" inspired in Minsk. By extremely evil (for cruelly miscalculated Russophobes) irony, it was these events that enlightened the Belarusian leader about where his friends are and where are enemies. Russia and Belarus are uniting precisely to confront the West, doing it more than successfully.
Lithuania stubbornly interferes in the affairs of Minsk, brazenly and shamelessly trying not only to give advice, but also to openly support the riots there. Alexander Grigorievich was offended and advised Vilnius to "deal with its own problems", and not to meddle in the internal issues of neighbors who "treated you in an amicable way and fed and fed you to some extent using the ports." Now they won't feed! As it became known, work is currently under way to redirect the flows of Belarusian oil products, which were traditionally exported just through Lithuanian ports to the "sea gates" of Russia. Don't know how to behave like a neighbor? Do you declare the officials of Belarus persona non grata and even threaten that "this is just the beginning"? So here's an adequate answer to you - the fuel produced at Belarusian refineries will henceforth be exported not through Klaipeda, but through St. Petersburg and Ust-Luga. Vigorous shish you instead of profits, gentlemen, bad!
These are not empty words - proceeding from the fact that this decision was voiced by the domestic energy minister Alexander Novak, who visited Minsk together with Mikhail Mishustin. And this, by the way, means that we are no longer talking about any "alternative supplies" of oil to Belarus. Only Russian! With Vilnius, of course, there will be many more headaches - it seems that Washington has decided to use this puppet of its own for the most dangerous provocations no less intensively than Kiev. Literally the other day, the deployment of a fairly serious contingent of the US Army will begin in Lithuania - up to a thousand soldiers and officers and at least 40 armored vehicles, including heavy Abrams tanks. Moreover, the local Defense Minister Raimundas Karoblis said that he expected the arrival of the same number of servicemen from France, Italy, Germany, Poland and other NATO countries, allegedly "completely unrelated to the events in Belarus", as well as participation in military maneuvers. Alliance aviation.
Well - let them frolic ... The answer to these games will be the exercises "Slavic Brotherhood-2020", which, by a coincidence, will be held on the territory of Belarus with the participation of Russian and Serbian military. They are also absolutely unrelated to anything. Well, except perhaps the firm intention of Moscow and Minsk to rid the NATO warriors of the burning desire to "flex their muscles" on our common borders. Yes, yes - general. No matter how the legal and political process of the formation of the Union State develops further, recent events have shown that there is no alternative to it - neither for Belarus, nor for Russia. In addition to the small and too insolent Lithuania lately, which allows itself to blather from under the reliable, as it seems to it, cover of the armor of American "Abrams", there is also Poland, whose Prime Minister Mateusz Morawiecki the day before called Russia "a country with a hostile regime, all sorts of attempts at dialogue with which are useless ", and called for" to make the most decisive conclusions "regarding our country. I wonder which ones? NATO is already convening a special meeting on the "poisoning of the century", the Organization for the Prohibition of Chemical Weapons (OPCW) has been super-operatively involved in the case, and the voices of those in the European Union are calling for "this time not to be limited to sanctions." Again, we are burning with curiosity - what else can we talk about? Judging by the hasty transfer of American soldiers to the borders of Belarus, options, as they say, are possible ...
Incidentally, Minsk also began to rapidly correct its relations with Ukraine in the manner in which it had to be done a long time ago. The Belarusian leader openly called it one of the sources of destabilization in the country - along with Poland and Lithuania, thereby fully agreeing with the statement of the head of the Russian Foreign Ministry Sergei Lavrov, who directly pointed to "hundreds of militants trained on Ukrainian territory" for organizing unrest in Belarus. In Kiev, in turn, they swagger, threatening neighbors with "tough steps in case of unfriendly actions." It is not clear what these steps might be, but the fact that the Ukrainian army will most likely remain without Belarusian fuel in the near future is good news. Recently, Moscow has desperately lacked allies on whom it could rely in a critical situation, capable of at least "covering its back" during an enemy attack, let alone taking the first step in repelling it. Well, an ally like Lukashenka with his current fighting spirit is worth a lot.