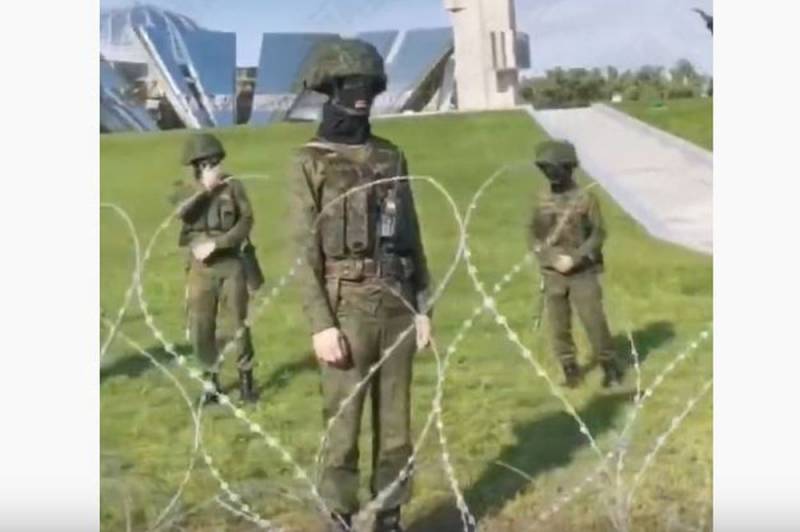 A video, filmed by residents of the Belarusian capital, has appeared on the Internet, in which children dressed in military uniforms stand behind a barbed wire fence near the stele "Minsk - Hero City", who are guarding the territory during the opposition protest.
How old is this boy?
A female voice-over asks.
Maybe it's Kolya's classmates
Replies another female voice, referring to 16-year-old Nikolai Lukashenko, the son of the country's President Alexander Lukashenko.
Nikolai was recently spotted in military uniform when his father on 23 August 2020
"Landed"
in Minsk with a machine gun in hand. He flew to his residence by helicopter from the Grodno region, where he watched the military exercises.
Maybe it's from the Suvorov military school? Look, these are children!
The woman suggested and exclaimed.
This video caused a resonance on social networks. At the same time, the opinions of users were divided. Some did not notice anything wrong with the fact that the authorities involved children in law enforcement. As an example, they cited the Great Patriotic War, when many children made their way to the front to fight against the invaders. They also recalled the long-standing tradition of putting up a guard of honor at the iconic monuments of those years and attracting children to the actions of the opposition itself.
In turn, another part of users considers it incorrect to compare the Second World War with the opposition protests in Minsk. Therefore, they do not understand the expediency of such a psychological action on the part of the authorities, especially when children must be in their educational institutions.