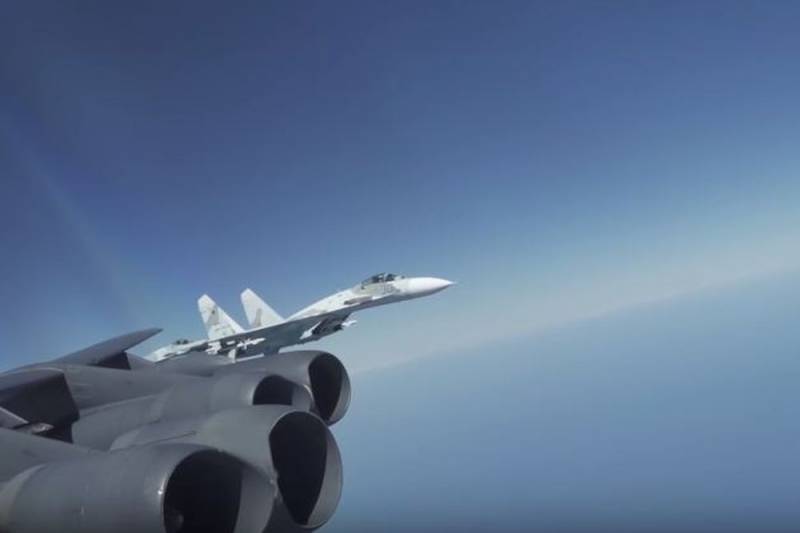 Recently, Russia has carried out two successful operations against the NATO Air Force in Europe. Su-27 fighters were able to endanger the B-52 bombers and penetrate the airspace of one of the Alliance states, writes the American magazine Washington Examiner.
What's going on at NATO's joint command? In the first case, the Su-27 intercepted a B-52 over the Baltic. The Joint Command should have foreseen that the Russians did not like NATO planes flying near their air borders. If the American allies have problems with aviation, then Washington should have sent their fighters. But the Alliance command did not prevent the negative development of events, leaving the B-52 unaccompanied.
NATO made a serious tactical error. Naturally, the Russians took advantage of this. They took off Su-27 fighters in the Kaliningrad region and intercepted. Moreover, they did not hesitate to pursue the B-52 over the Baltic in the area of ​​the Danish island of Bornholm.
The alliance helplessly stated that the Su-27 "followed the B-52 deep into Danish airspace over the island, violating the sovereign airspace of a NATO member kingdom." Only after that, the F-16 fighters of the Danish Air Force were raised into the sky, but the Russians had already flown away by that time. The Polish Air Force did not react at all to what happened, and Germany, even before that, treated NATO problems with disdain.
General Jeff Harrigian limited himself to the duty phrase that "we remain vigilant and ready to ensure the security of NATO airspace 24/7". Why he made such a statement when the Russians proved it to be untrue, we cannot understand. Whether the Russians got access to the Alliance's communications network is unknown.
On the same day, the Su-27 intercepted a B-52 over the Black Sea. The bomber was again without cover. The Russians made such dangerous maneuvers that they could lead to the crash of the B-52, the crew of which had only
fix
happening.
The situation is worrying. NATO generals and admirals need to be held accountable, because Russia regularly conducts aggressive interceptions of aircraft from the United States and other countries, the publication sums up, assessing the actions of Russian aviation.