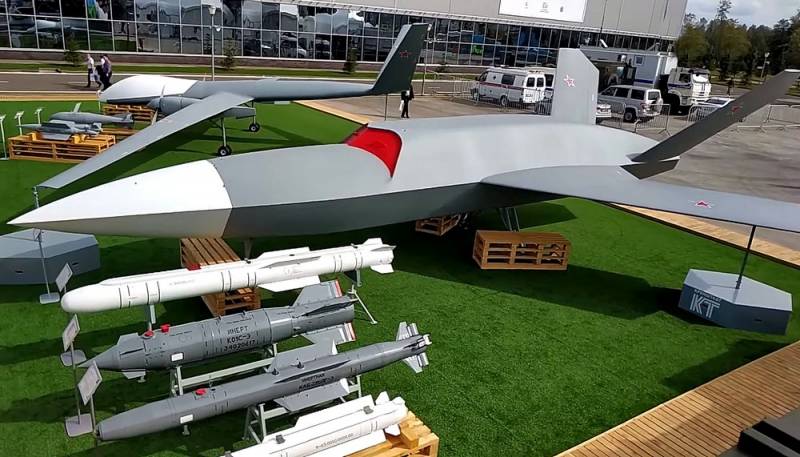 The Russian military-industrial complex is developing a new attack drone "Thunder", which can act as a slave. Its scale model was presented at the Army 2020 forum, writes the American magazine Forbes.
The concept of a slave drone has emerged relatively recently. Its idea is that an autonomous drone with artificial intelligence can make independent decisions and have similar capabilities to manned aircraft. If this can be achieved, they can be used in battle together with fighters and bombers. Moreover, most of the time such drones will operate independently, so they should be cheap and multifunctional.
What results the specialists of the Russian firm "Kronstadt" were able to achieve is not yet clear. But the Thunder's silhouette, V-shaped tail, 10-meter wingspan and air intakes indicate that it is a replica of two slave drones - the American XQ-58 Valkyrie and the European Albatross from EADS.
At the same time, it is known that each "Valkyrie" costs the American taxpayers $ 2 million. In the US Air Force they are called "consumables". This indicates that even the loss of a large number of such UAVs in battle is acceptable to the military.
According to expert Samuel Bendetta from Washington, the Ministry of Defense has not yet disclosed its plans for the "Thunder". Therefore, even the shape of the drone may change over time, because what tasks it will perform is still unknown, and the necessary tests have not been carried out. Now we have just a concept, and the appearance of "Thunder" may be different in the final version.
He stressed that it is also not clear which aircraft Moscow plans to use in conjunction with the Grom or other similar Russian drones. Bendett explained that work on AI-powered slave platforms in the United States is progressing quickly and efficiently. But he doesn't know how far the Russians have progressed in their designs.
The expert suggested that the Russians may have created the necessary software, but so far they have not disclosed the details. He is confident that more information on this topic will be available in the coming years.